Choosing to build again was an easy decision for Brad and Leanne, but finding the right home builder that had the right people to help them through the process and take the time to understand them was key.
"Walking into the first show home we both instantly fell in love with it. Like the whole concept of it, the design, the clean lines that Kanvi does, the craftsmanship…everything. It was a really good experience with Chris. When we asked questions, he was right on top of it. He followed up all the time. He got us our answers. He's more genuine than a lot of the sales people. He wasn't pushy. It was really positive with him."
When you've built before like Brad and Leanne, you know what you want, when you see it.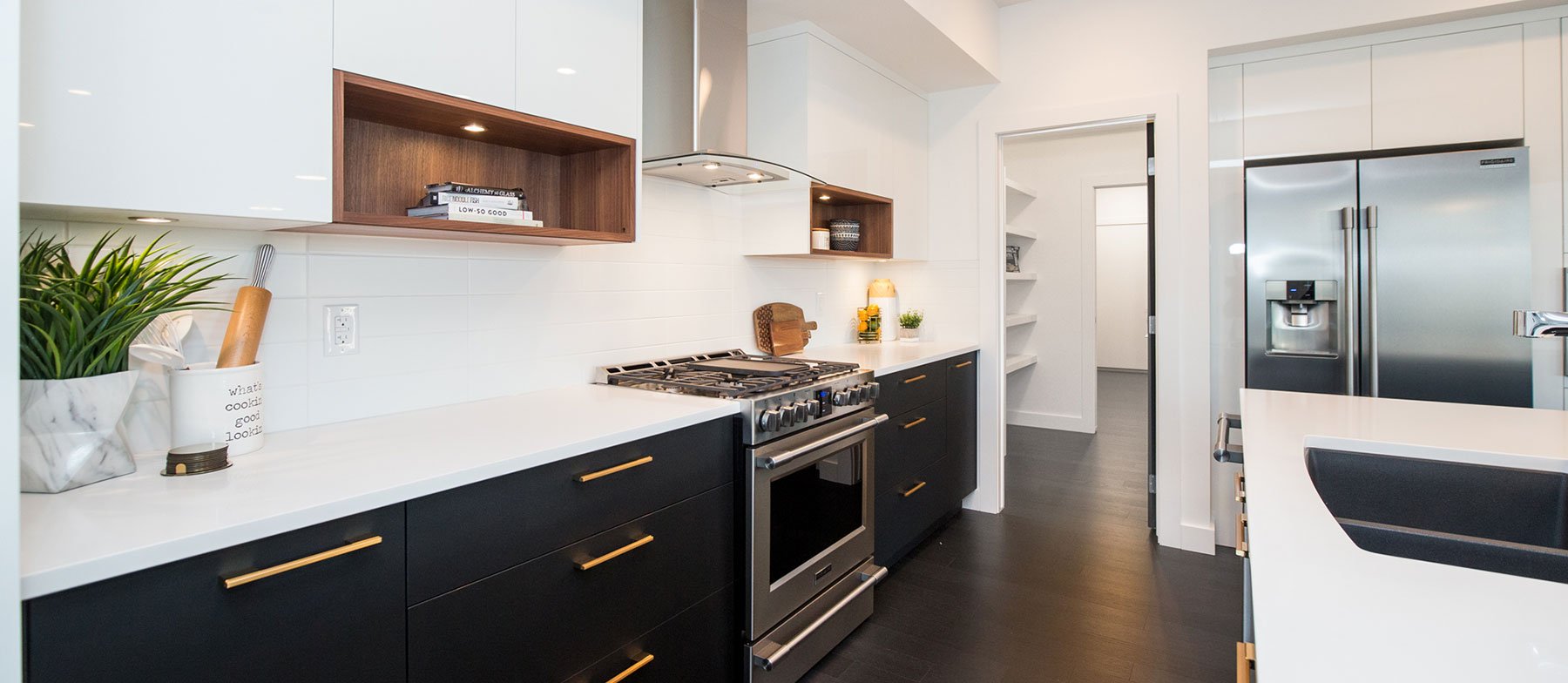 This show home - The Hybrid32 - has inspired many to consider Kanvi for their next home, just like Brad and Leanne.
"I don't think that we actually went through another Kanvi home, until after we chose this one and the ones that were in our area. We walked through and then we looked at some online. We actually only saw one Kanvi home and we just knew this one was it" mentioned Leanne.
As many of our client's do, Brad and Leanne did lots of research long before finding Kanvi, and were looking at many others to see what they offered.
"We were actually looking to build more, kind of south central and we just didn't like a lot of the builders, a lot of the plans and what they had to offer. When we found that show home we just loved everything about it other than the size of it, it was a little too big for us. Leanne jokingly, made a comment to Chris on our way out, "it's too bad this doesn't come in a smaller model". Well, as luck would have it, it did" says Brad.
"Kanvi's design team for the particular models you that have, are absolutely brilliant. Kanvi homes have got a special style to them and it's just amazing throughout every plan that we saw on the website. You can tell just by looking at that plan or probably just walking into a house that it's a Kanvi home. We really love that about it, we looked at hundreds of homes, we kind of found one that we were debating over, but as soon as we walked into Kanvi's we were like "nope", we are definitely going with Kanvi now."
One question we always encourage those who exploring building a new home is to ask 'How many times do I get to see my home under construction?' Every home builder has a bit of a different process, and here at Kanvi we try to be as transparent as possible.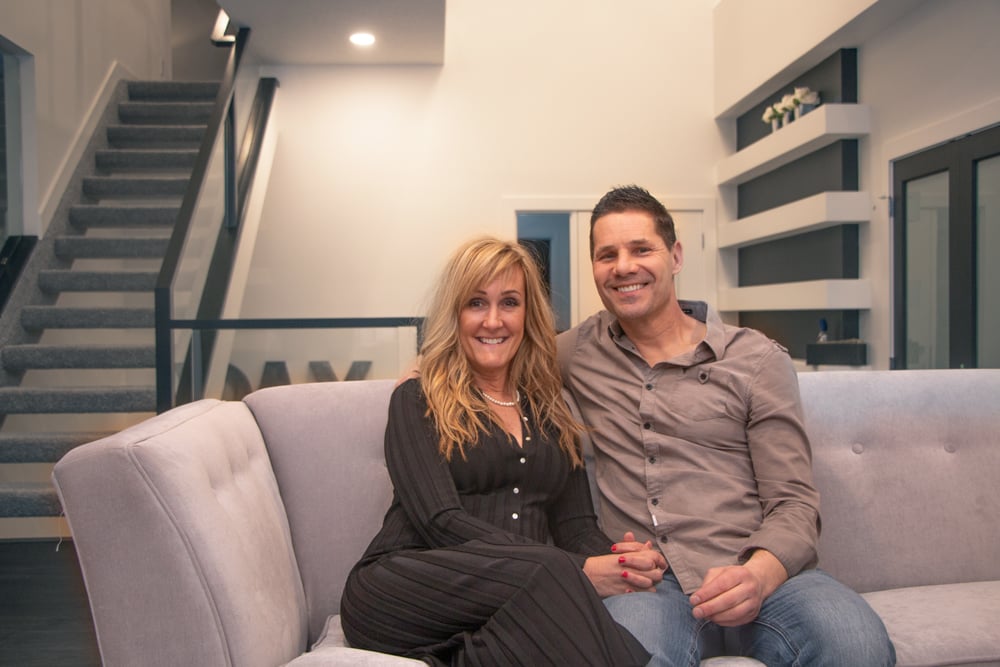 "I dealt with Bryan personally and he was really good. One thing I really liked about Kanvi was overall the other builders was the site visits. The other builders give you three particular site visits. With Bryan, if I had an issue or concern, I would text Bryan personally or phone him and he would get back to me right away. If he didn't understand what I was after, he would invite me over to the house and say "walk me through it. Show me what you are after and we will see what we can do." It was really good that I got to come and go, if I had problems, between Josh, Bryan and Cory, they just welcomed me there. They let me take pictures or change something if I needed to and it was a good process. Really good people" voiced Brad.
At Kanvi, we've got a unique piece of technology that allows our clients to see photos of their home during construction, as well as a schedule of planned work. Since both Brad and Leanne have built before, having this was highly valuable to them.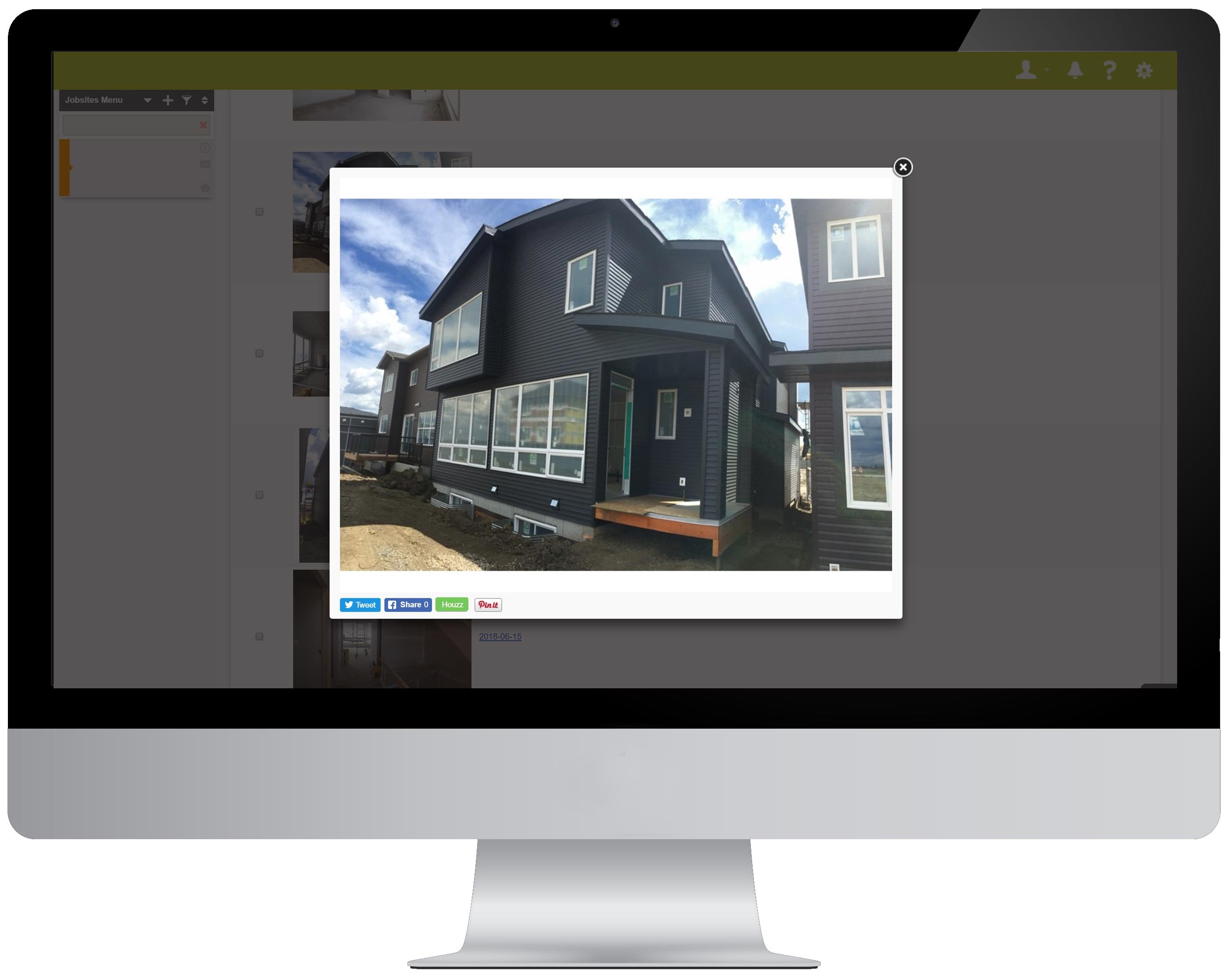 Our online portal allows for 24/7 virtual access to your home under construction.
"You guys having the pictures online is the best idea ever. I like to see what's happening through the day, that is super cool! You can show friends. Every day I was like, what's happening today?"
One of the key components to building any company is having the right staff, Brad and Leanne worked closely with our team for their home, and enjoyed the process.
"Just incredible staff, extremely willing to help out and, very patient. We did make a ton of changes, a ton of revisions and Kanvi didn't hesitate, they let us know whatever you need done, let's get it done.'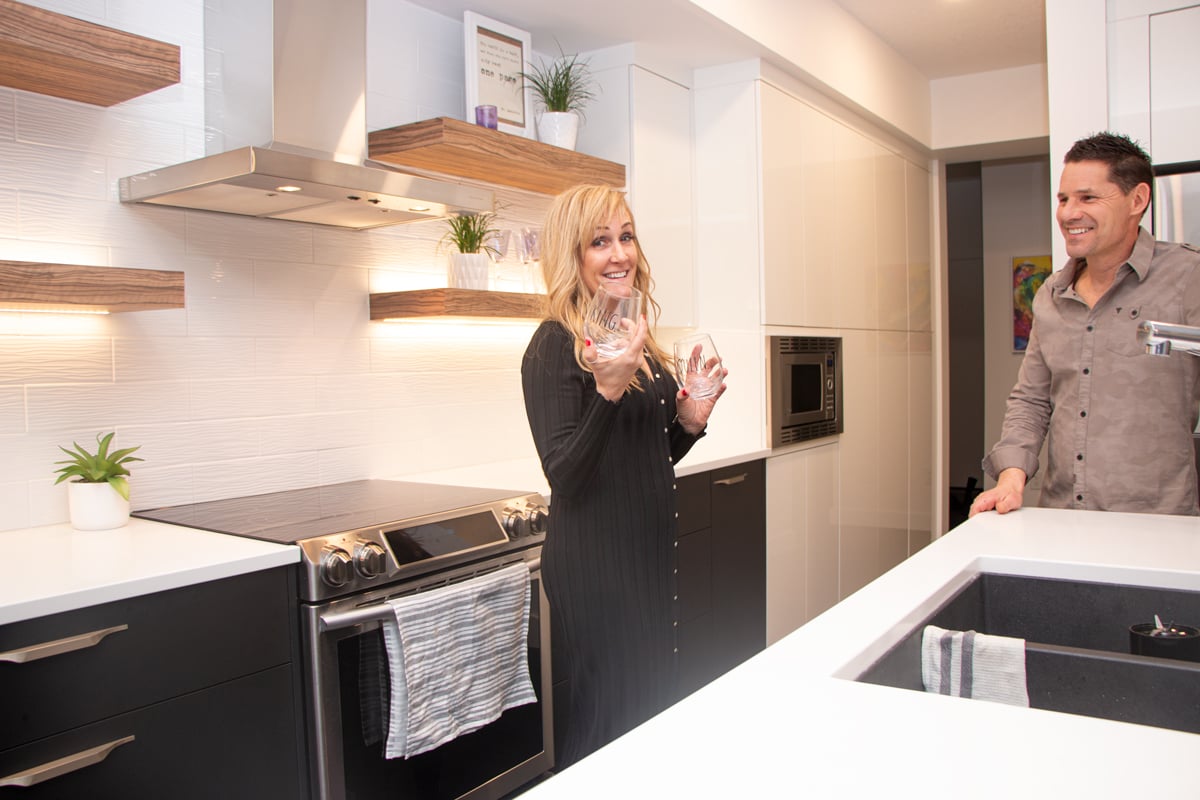 Now that Brad and Leanne live in the home, they've got their favorite parts of their home.
"It's clean and just simple lines and it's neat the way the engineering works. We had guests over last night and I was explaining to them how Kanvi engineered duct work and you hide it in little spots so you can make the house so open. Everything just worked out so well."
"I always wanted more windows and I wanted something different. How Kanvi guided me through what we can actually do was helpful. I'm super happy with how the windows turned out and I was a little bit worried about that. My favorite spot in the house would be my fireplace and my closet, which is one of a kind. I love our bonus room, the open shelving with the black in the back, really pretty." mentioned Leanne.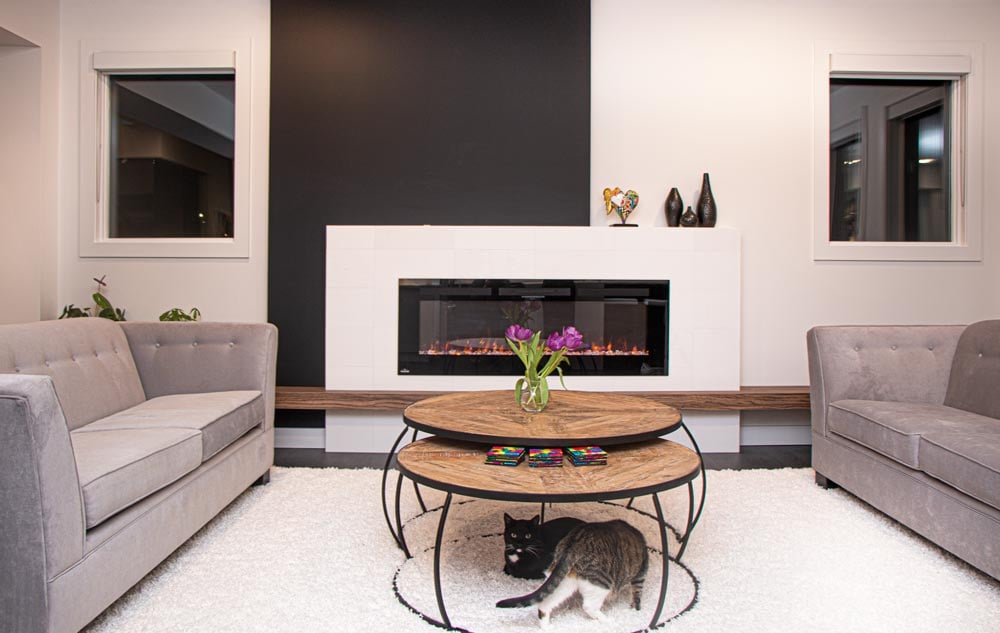 This custom fireplace feature has a tile surround with a walnut mantle.
"I think, oddly enough, the foyer for me because that's where people come in and it's really large. Last night we had a group of probably 12 people come in, we were all standing in the foyer, and our house is all lit up at night and it just looked incredible. You can see virtually through the whole house and they got a perspective just from the front door. It was really nice." says Brad.
With Kanvi's focus on how to run an effective company and the right team results in having happy clients like Brad and Leanne.