Caroline and Ian decided a few years ago that an infill was the way to go for them, during their research Kanvi was discovered and chosen. Read below to learn more about their journey with Kanvi.
Walk me through the decision process of 'why did we pick Kanvi?'
When we were deciding on a builder for our home, we interviewed four established custom builders as well as Kanvi Homes. Years back, we had visited a Kanvi show home and were impressed with their ability to balance beautiful modern aesthetics with a functional space design, while providing the ability to customize features. During our review process, Farhan was easy to talk to and spent hours answering our numerous questions.
We learned about Kanvi's extensive in-house team (designers, decorators, cabinetry specialist, etc), their generous specification package as well as their quality providers (HVAC, flooring, etc). We were also very impressed by the level of detailing included in their plans. It was also reassuring for us to work with a fixed price quote during uncertain economic times which included international trade wars affecting building material costs. In summary, among the builders we interviewed, Kanvi Homes seemed to have the best combination of expertise and infrastructure to build our custom infill project in a cost effective manner.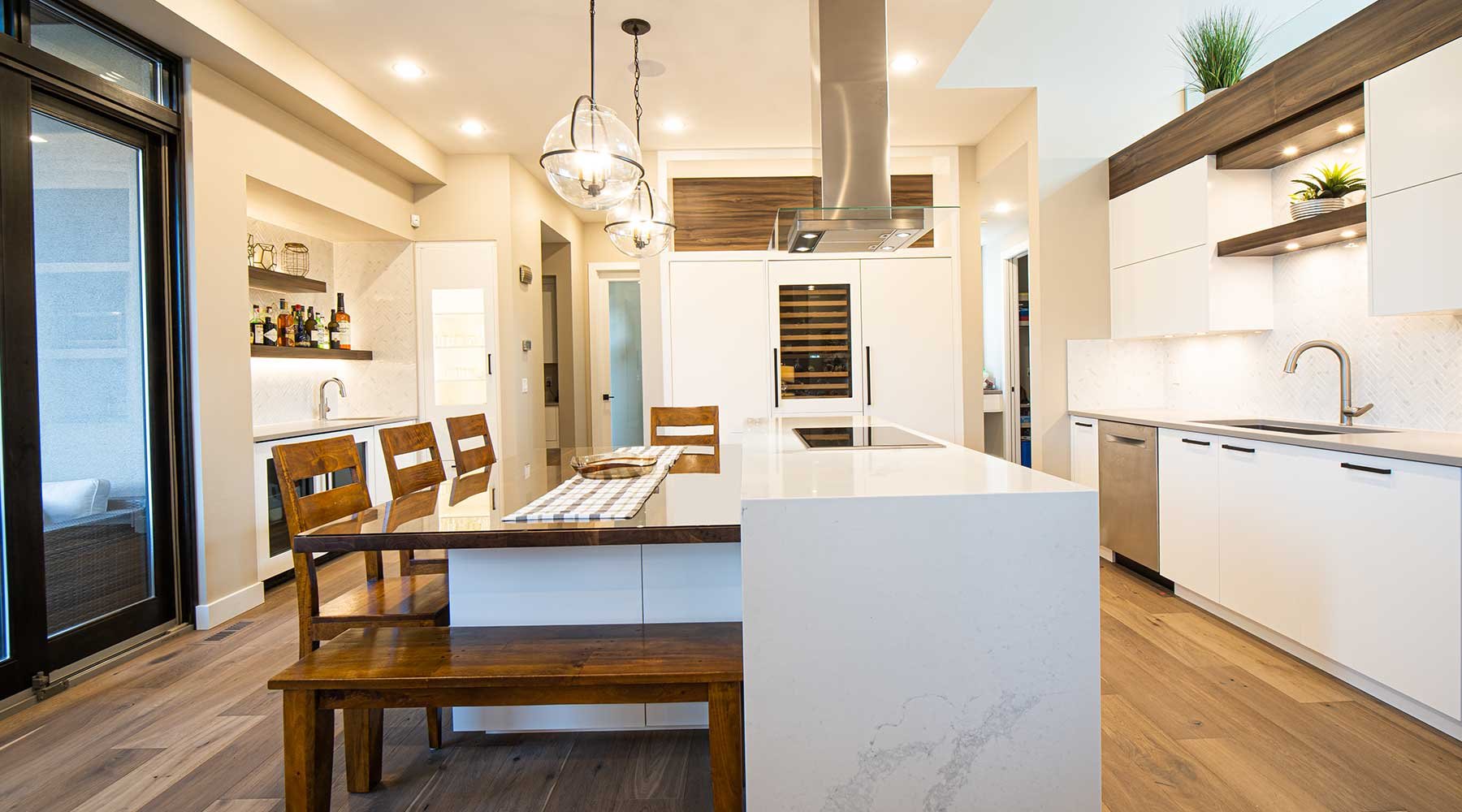 This kitchen has access to a covered patio with a skylight - making entertaining easy.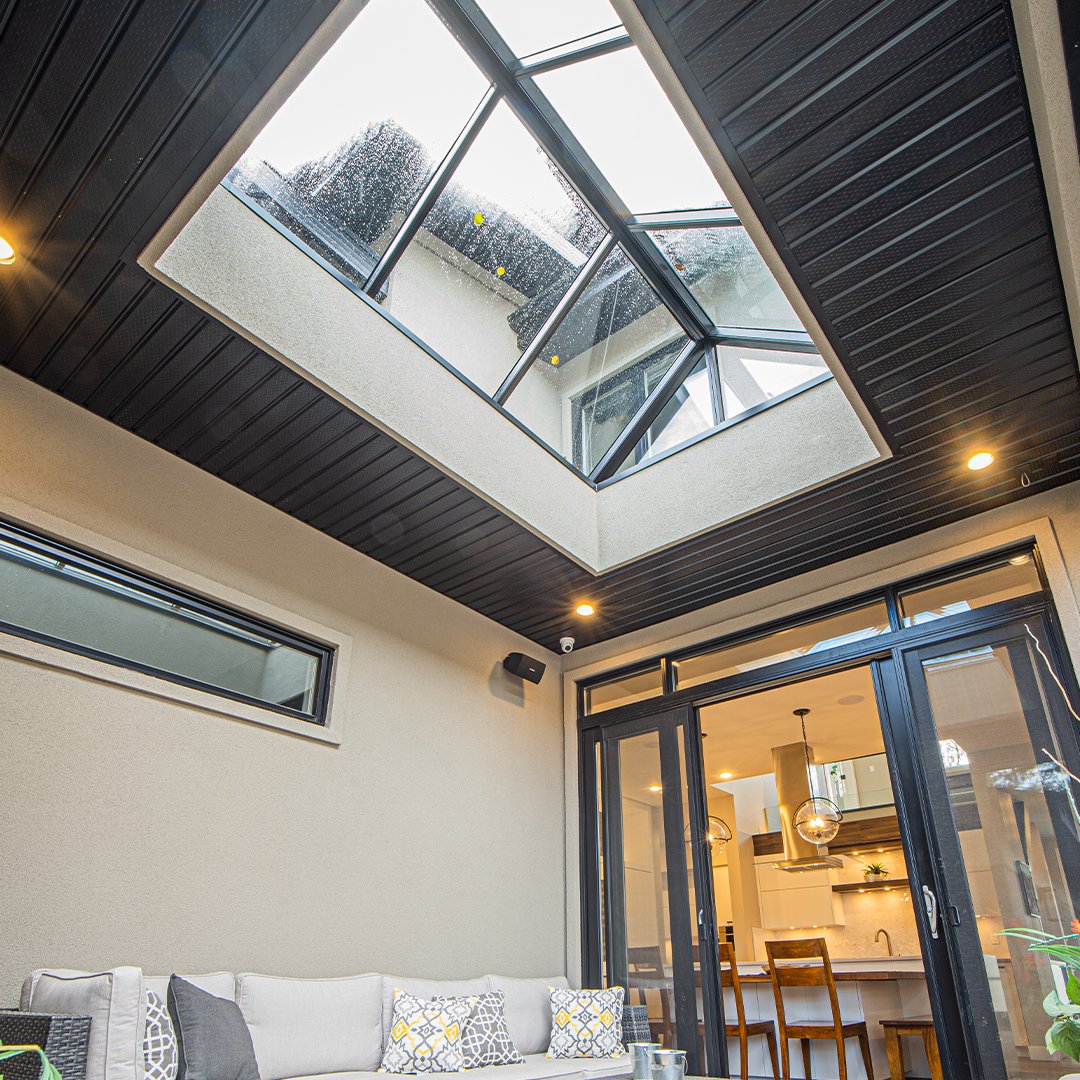 Now, let's talk about when the decision has been made to go with Kanvi, now tell me about designing the house, what was that process like? How did you approach it?
An architect designed our initial plans but once we hired Kanvi Homes, at least 40% of that plan was modified and improved upon. We were impressed by the integrative approach of their in-house design and build teams to include custom features such as the addition of a 6' by 9' skylight atop our covered patio, or windows that attach directly onto the fireplace stonework. Farhan and his team were always ready to tweak the plans until every square inch of our house was perfectly designed and served a functional purpose. Details are inherent in Kanvi's DNA The entry was customized as a main place for traffic and storage for daily use.
One of our goals was to maximize natural light throughout the house, but especially in our North facing kitchen. To achieve this, we rotated the staircase 90 degrees which in turn opened up our kitchen ceiling to the second floor's south facing windows, allowing sunlight to pour in. Another design improvement worth mentioning was to our front entrance. Although we have a very functional mudroom at the rear of the house (rear attached garage), we realized the front entrance would also get plenty of traffic during our daily commute to school and work. We therefore opted to push out a front section of the house to expand the front entrance and add extra closet storage. Lastly, knowing that our house has the potential to generate rental revenue due to our proximity to the University campus, we worked with Farhan to design a basement suite with its own private entrance and interior staircase.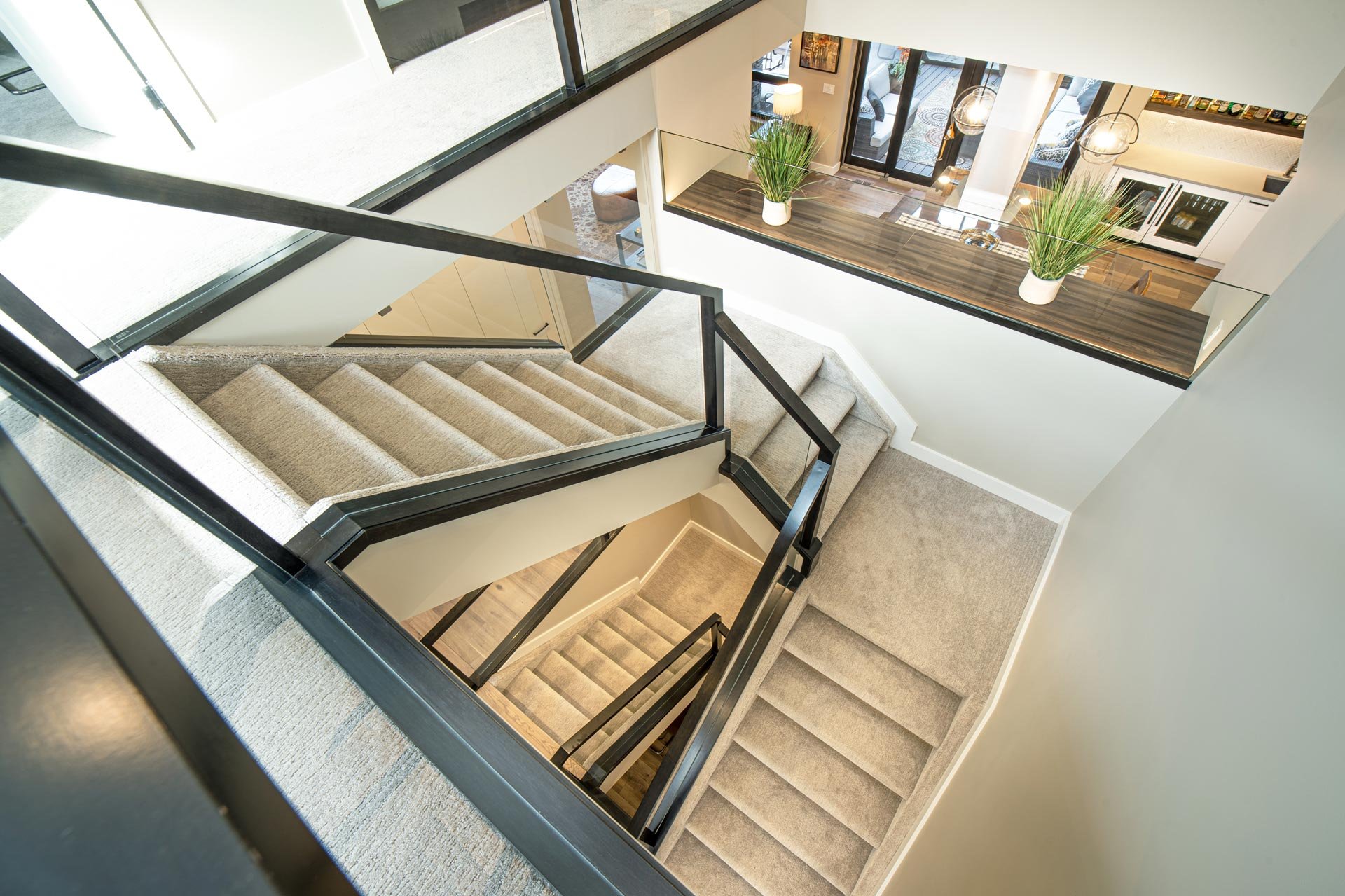 The staircase opens to the kitchen, allowing light from the south facing front windows to cascade down.
You've got a really cool feature that's designed to have the house ready for you in the future as you age, what was the process the elevator decision?
Aging in place and living in a barrier free environment was another important goal of ours. Many features were conceived during the design phase to render our house as accessible as possible to all disabled guests and ultimately ourselves later in life; main floor bedroom and bathroom with a curb-less shower, elevator shaft, pocket doors, wide hallways and door frames, etc. It's so much easier to plan for this now rather than a renovation later. These barrier free features go unnoticed unless they are pointed out, which is exactly what we were aiming for! Adding a barrier free washroom to the main floor was another addition that's there for Caroline and Ian as they age.
The next stage is the interior design process. Your house definitely stands out there's a lot of beautiful finishes, it's wonderfully designed, holistically everything works together. Walk me through the interior design process with Kanvi, and can you tell me about that process of working with Kanvi's interior designer?
Working with Larissa was so much fun! I shared my Houzz and Pinterest portfolios with her. Those two websites were a great source of decorating ideas and inspiration for my husband and I. Larissa was able to capture the modern organic yet simple feel we were going after. We were pleasantly surprised by the quantity and quality of the choices included in the 'standard' specs! We splurged on a few items, but the vast majority of our selections were chosen within this base package. There are some upgrades, but most of this kitchen is part of Kanvi's standards for interior design. Interviewer: Walk me through if there were any kinds of things during the construction walk-throughs that were interesting to navigate and experience. Caroline: First of all, both Bryan and Cory were extremely knowledgeable and accessible. We did weekly walk-throughs together during the 14 month build process. This allowed us to efficiently address all questions or modifications in real time and also made us feel like part of the Kanvi team!
That in itself was very reassuring for us and I believe it was helpful for everyone involved. Issues can happen during construction, and it's important that we view them as challenges in order to overcome them. There were times when we needed to figure out the optimal location to run HVAC vents and balance aesthetics with function. Cory and Bryan both seemed to thrive on new challenges, and always came through with viable solutions.
Another example was the attention to detail during the installation of our office workstations; we had purchased filing cabinets to be placed under a custom quartz counter top, but soon realized that the width of the floor molding prevented the filing cabinet drawers from opening. Cory searched far and wide and found a 1/2" spacer that perfectly matched the finish of our Restoration Hardware filing cabinets. Adding this 1/2" spacer now allowed the cabinet drawers to open and close properly. Cory found the solution right away and our workstations are now flawlessly integrated in our home. The lighting in the dining room is spaced perfectly with the table - all thanks to our detail oriented team. Lastly, when it came time to decide on the placement of ceiling lights fixtures, Cory took the time to trace out our dining room furniture measurements onto the floor with a black marker. This allowed us to perfectly centre our chandelier above the dinning table, rather than simply centre it to the room. The same attention to detail was applied for the height of our cooktop hood vent; Cory made sure the power buttons were within my reach before finalizing the installation. This level of support made for a fun build experience!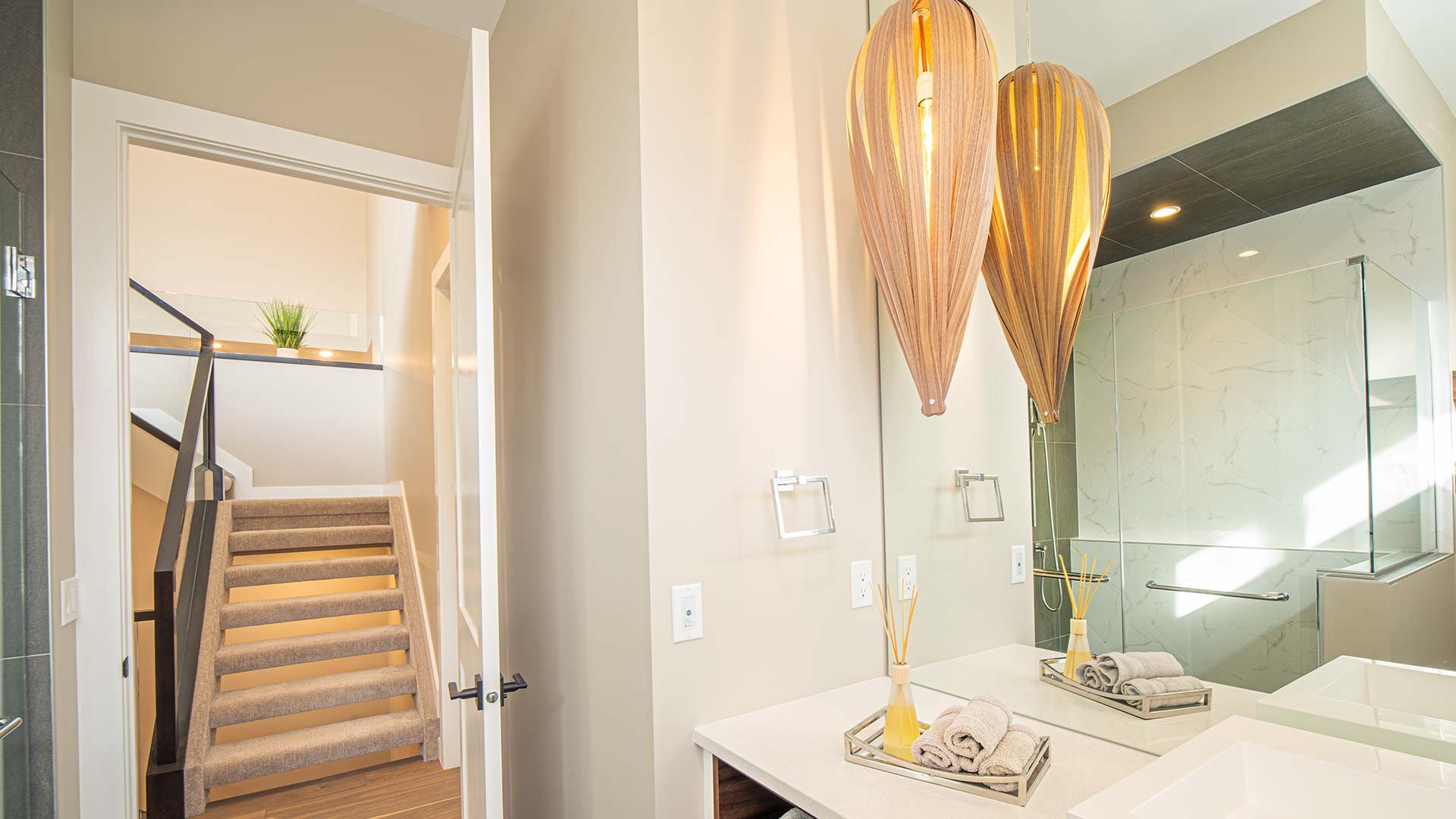 So, you have been in the home 6-7 months now, how is it living in the home? How does it feel there now?
We simply love it! It's a beautiful and functional house where everyone has their space. We find that it's open enough to encourage togetherness as a family, but at the same time, there are quiet areas allocated for studying and working. The kids have really enjoyed their bedrooms and easy access to their bathrooms. The kitchen is truly the hub of the house and it works so well for our family and when we entertain. Guests comment that as beautiful as the house is, they also really appreciate its functionality, storage and natural lighting. We always get asked "Who helped with interior design?"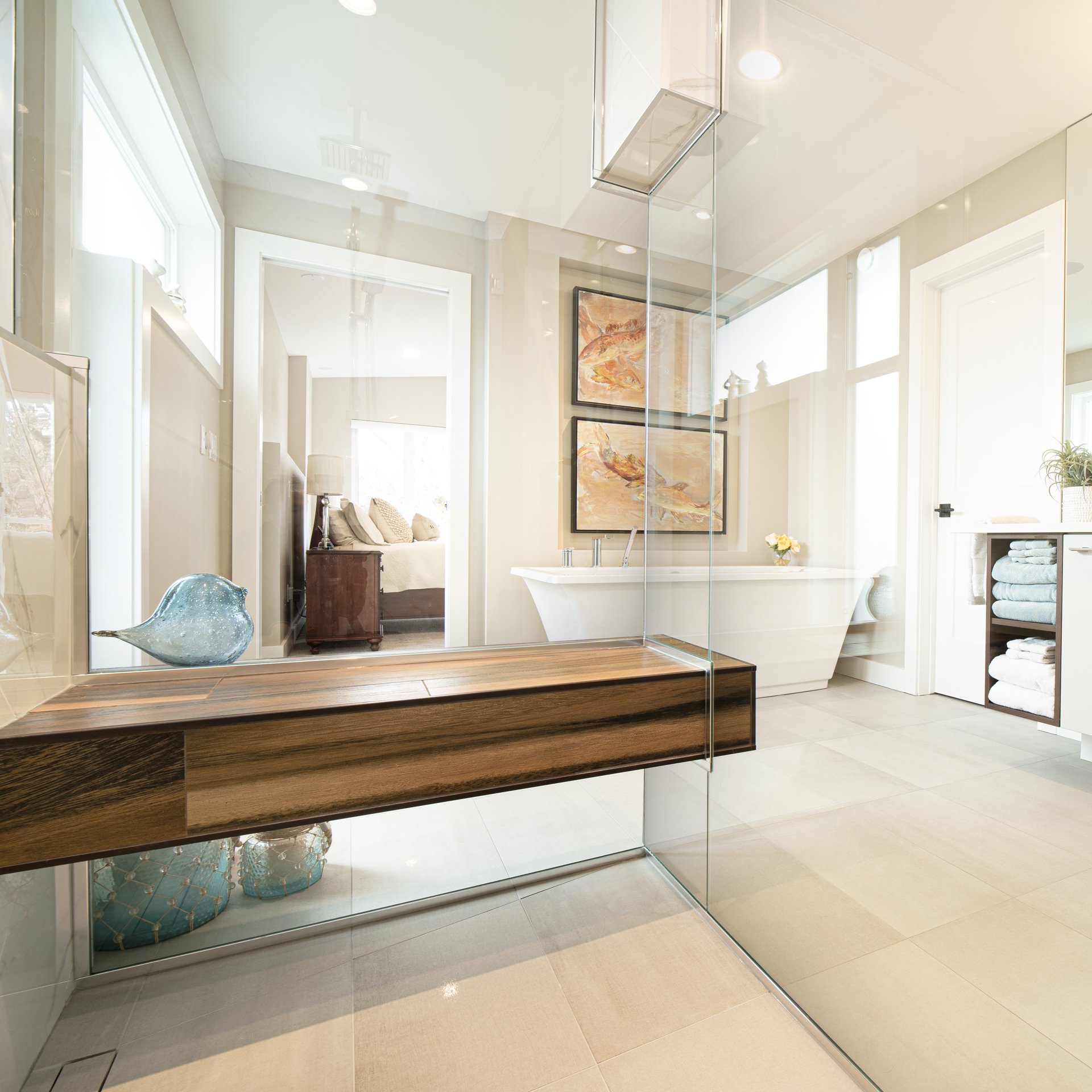 New homes are made by hand, and at times there's a need to fix things. If you brought something up with Chantelle (Our Service Coordinator), how did that get managed? Was the level of service that you want it to be?
Chantelle has been awesome to work with. A week prior to Christmas, during the 3 month post possession date walkthrough, Bryan noticed that one of the glass barn door hinges was not well anchored making the door rub against the floor during operation. Within 4 days, Chantelle had the glass barn door removed, arranged for John, the service technician, to reinforce the wall, solidify the hinge and re-finish the area, and finally had the glass door reinstalled. They were so efficient to get this repaired in time for Christmas. That speaks volumes to the exceptional service and customer experience that Kanvi offers.
Great, thank you again for the conversation, Is there anything you would like to say or add?
If there's anyone out there thinking of hiring Farhan and his Kanvi team to build a custom home, we highly recommend them! We would also not hesitate to build with them again.