Relocating from Westlock to Edmonton in late 2016, Jayshree and Subrata had a condo in the city, but they needed a home for their family of four. Initially, the couple were in opposition: Jayshree wanted a ready-built home and Subrata wanted to build his dream home: "I was keen on moving into a ready home because I didn't want to go through the hassle honestly," Jayshree says, "Everybody was telling us that building a home is really a difficult task. But my husband convinced me. He wanted to a custom home, he was not liking any of the homes we saw; if he liked one aspect, he didn't like the rest, so he talked me into it." Once they decided to build a custom home, they found the right location before looking for the right builder. Subrata had a specific aesthetic in mind, but they also had a tight timeline for the build: one year.
Jayshree and Subrata are competent and confident, forthright and fastidious, and being doctors, they appreciate professional and attentive service. So, they didn't just want their deliverables met, they also wanted to work with company that understood that building a home is more than just a purchase – it's an intimate, arduous journey that requires the builder's respect, conscientiousness, and genuine interest.
After viewing countless show homes and speaking with multiple builders, Kanvi was the standout choice in style and service. But because they're incredibly thorough, Jayshree and Subrata connected with a sales team member and visited several Kanvi show homes to solidify their interest and assess their needs before meeting with Farhan. From that first meeting, Kanvi was attentive and engaged, "They were always there and put in a lot of effort to make sure that all our concerns were addressed," Jayshree says, "Especially Farhan, he worked really well so you could always approach him anytime. We really loved that part of it." After exactly one year, their home was ready: "That was our demand," Jayshree says, "We said, 'If you cannot get us in, in a year, it's unlikely that we will build, and we'll just buy a ready home. So, they did move us in quite quickly, considering it is a big home, it's really impressive."

"They were also following the whole building process right from day one."
Subrata loved that he was able to include his sons in the process with Kanvi's online portal: "I would bring them here, as often as we could, to show them the construction process. They were also following the whole building process right from day one – from the initial excavation to the painting. We loved the builder's app where we could see uploads every day, especially on days when I couldn't be there, I would ask the site supervisor, to upload the pictures every day, so I could see the progress, they helped us follow the whole building process." And whenever Jayshree and Subrata had concerns, they were addressed almost immediately. In fact, at one point, Jayshree mistakenly thought the wrong bath tub was installed and a staff member went to the house themselves to check it at 9 o'clock at night. Luckily, it was the right tub, the doors just weren't in yet: "After he told me that I felt bad and happy at the same time. Kanvi is going to your home at that point in the night, checking and letting you know that it is all good. They did quite a few things like that," Jayshree says.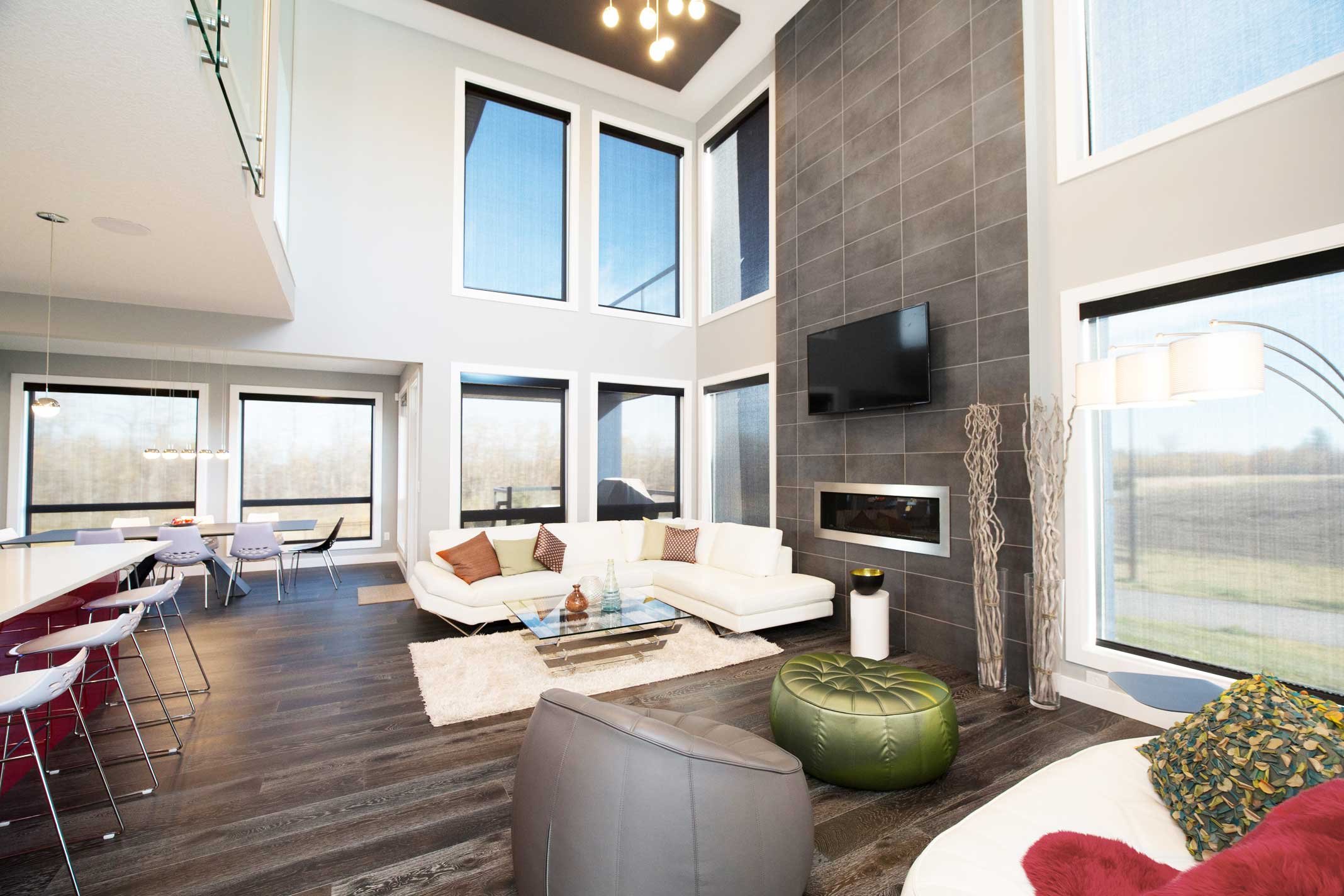 "The best part of our house is that we can see each other everywhere, all the time..."
Because family intimacy is paramount to Jayshree and Subrata, ("We want to spend as much time with the boys as we can," Subrata says), they wanted a modern, open concept home that they could tailor to their family: "The best part of our house is that we can see each other everywhere, all the time. It is not like it is compartmentalized, we are always connected. If the boys are playing in the bonus room, we can still talk to them and see them from the living area." Their house is based on a Fusion model, but it's highly customized to the family's needs and style. For example, the main floor has large windows and it's open to the above with architectural glass railings that create more openness and visibility. "We love the light that we get from everywhere," Subrata says. "And our house backs onto the Whitemud ravine," Jayshree adds, "So no matter what time of the day it is, it's always nice and quiet. We also have huge windows in our home, so it's well-lit for the whole day. We don't like dark spaces, we like the brightness and being next to nature. And our home is very spacious with the open to above concept. You are looking at the roof that is like 20 feet high. It really makes you feel like you are living in a mansion."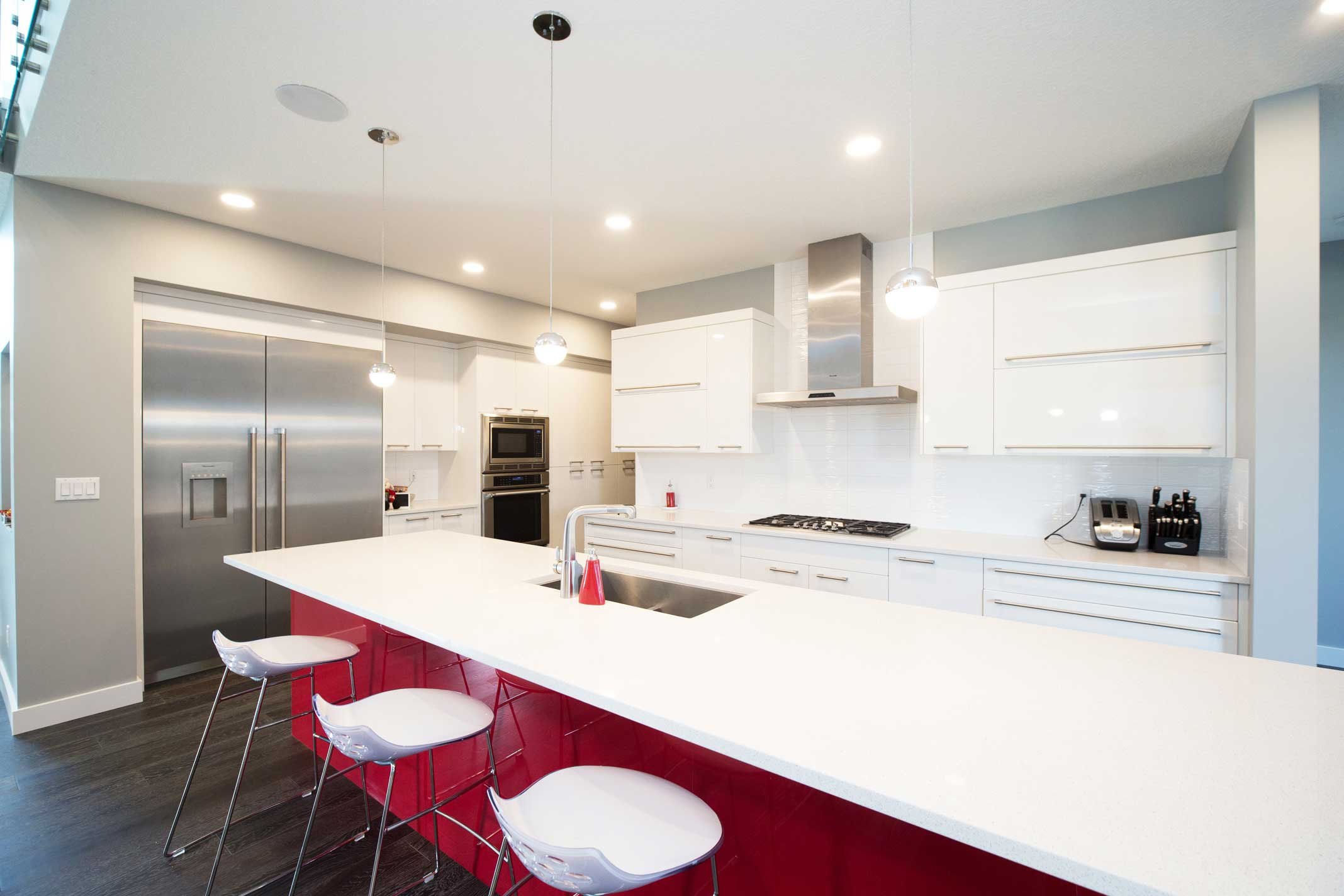 "Those flashes of red draw the eye from the kitchen to the kids' work space upstairs..."
"We wanted an open concept, clean cuts, and bold colors," Subrata says, "There's mostly shades of red in the house, and on the outside, we chose a very different colour than what people normally do: a navy blue along with some grey." Those flashes of red draw the eye from the kitchen to the kids' workspace upstairs and from the basement bar to the pendant lights in the master bedroom. In keeping with modern design, their home blends shiny, smooth surfaces with textured tile and cozy carpet. Their large, open kitchen connects the dining room and great room, making it the centre for events and gatherings, but tucked away where the pantry was on the original plans, is Jayshree's spice kitchen.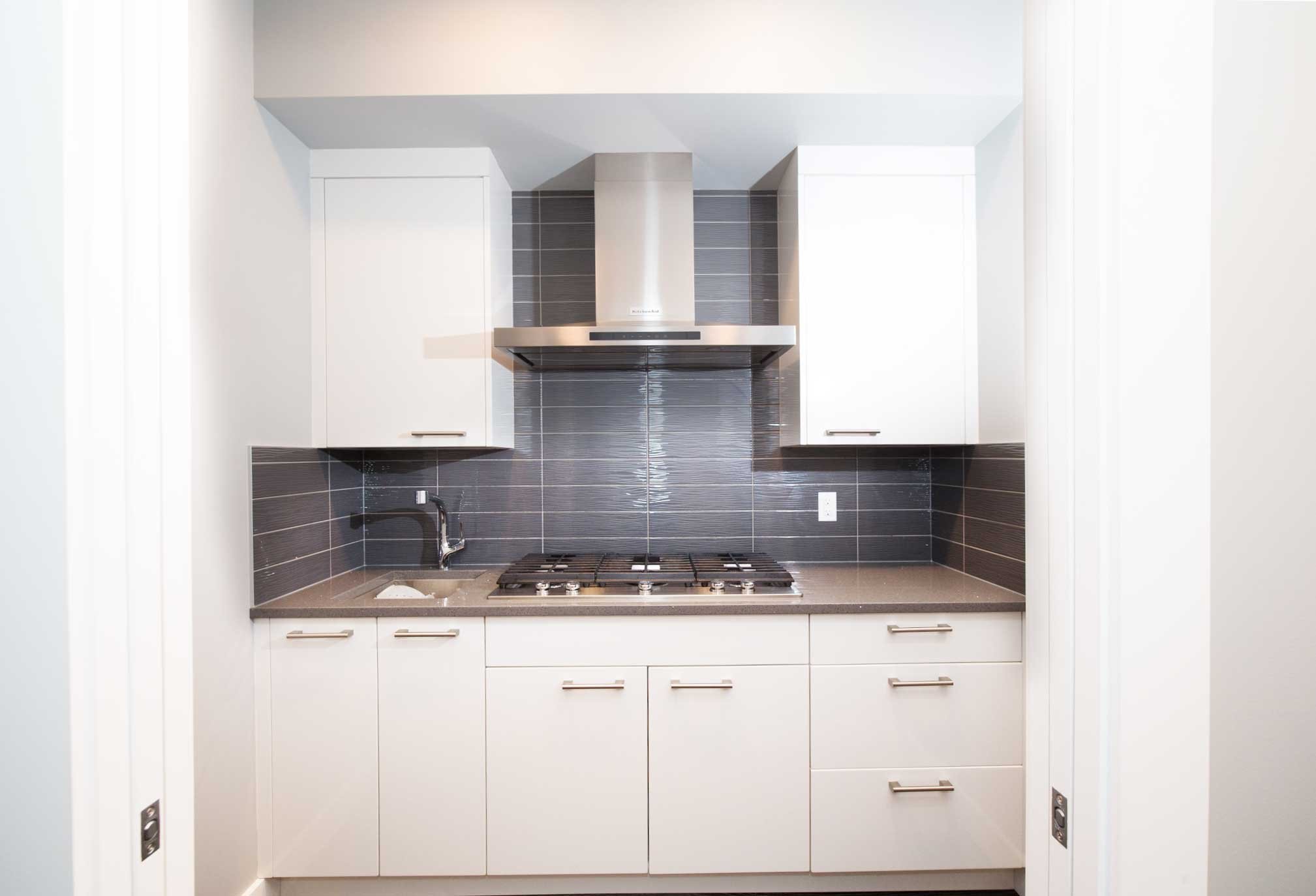 "It has glass doors that I can close if I don't want any of the food odours to come in to the main living area..."
Jayshree cooks fresh every day, typically Indian cuisine and curries: "I wanted a different area to cook because we do a lot of cooking. And with so many white cabinets, I didn't want to do it in the main area, so we converted the pantry to the spice kitchen. It has glass doors that I can close if I don't want any of the food odours to come in to the main living area, and I have grey backsplash so cooking and spice stains aren't visible – it's more forgiving that way."
Jayshree and Subrata also had Kanvi finish the basement before turning it over. "The basement was done carefully. We had everything wired in during the construction process and had somebody special do our sound systems for us. Before we moved in, we had everything wired, we had our home theatre system done, and everything is controlled from the basement. Kanvi made everything very clean, very nice. I designed the bar myself, along with the Kanvi team, and we have the ping pong table where the boys spend a good amount of time. It's everything that we ever wanted."