From serious oenophiles (a connoisseur of wines) to budding homebrewers to those who simply enjoy a casual glass of wine at dinner, wine cellars are quickly becoming a must-have luxury feature of any modern home.
While the traditional wine cellar of the past has typically been banished to the cold, dark depths of the basement, the modern wine cellar, or wine room, has thrust itself into the spotlight as a prominent entertainment space and focal point of any home that engages, celebrates, and leaves guests with a lasting impression.
But are there any tangible benefits to having your own wine cellar at home? Below we'll explore the top 5 reasons you need a wine cellar in your home:
---
1. Increased Home Value
Despite widespread popularity, a majority of homes do not actually boast a wine cellar. Wine cellars are increasingly becoming a sought-after luxury feature and can ultimately add resale value to your home. Future buyers may appreciate the added luxury, sophistication, and status symbol of a custom-built wine cellar—which can help set your home apart from others on the market. In fact, a 2017 report from the National Association of Home Builders found that wine cellars were the most desired amenity amongst home buyers with higher household incomes because of their perceived added value. Upscale, luxury home buyers actually sought wine cellars out so frequently that Realtor.ca decided to actually add a wine cellar filter to their home search functionality tool.
2. Preservation of Quality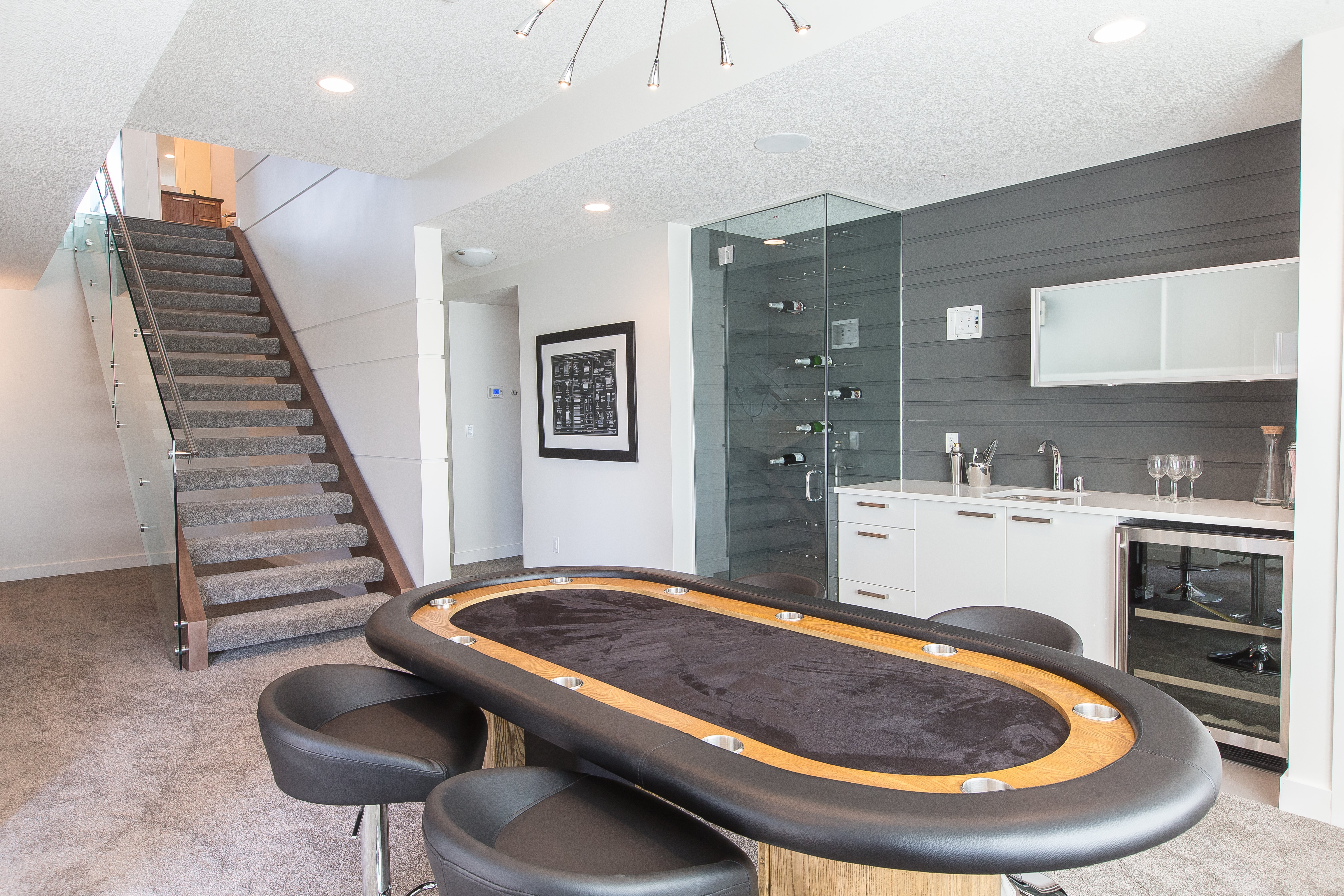 Pictured: Wine Room from our former Mecca Show Home in Jagare Ridge
One of the principle reasons wine cellars have remained popular over the years is because they help prevent spoilage. Like any other natural food, wine is perishable. While many wines actually get better with age, this nectar of the gods is indeed made with fruit—meaning it is subject to the elements. Wine cellars offer the perfect storage solution to help maintain constant temperature, humidity, and stability. Any fluctuations in temperature, humidity, light, or even noise or vibrations can negatively affect or even compromise the wine. They may not contribute to spoilage or oxidization but can still fundamentally change the way the wine tastes in comparison to a wine that has been stored in the proper conditions. A well-stored wine helps preserve or in some cases enhance the quality, taste, flavour, complexion, and overall aroma.
3. Cost-Effectiveness and Savings
One of the biggest advantages of having a dedicated space to store large quantities of wine is that you can purchase wine in bulk—ultimately saving you more money in the long-run. Having the ability to purchase wines by the case or crate means you will pay less per bottle as many sellers or wholesalers often offer discounts on bulk purchases. While the upfront cost and initial investment of building a custom wine cellar in your home is a significant purchase to consider, over time you may find that the increased storage space helps you save money by virtue of volume purchasing alone.
4. Future Investment
Pictured: Wine Fridge in our Aura 30 Show Home in Jagare Ridge
For some savvy investors, wine presents an excellent opportunity to make future profit. You can purchase vintage wines at a lower price before they reach their peak and then resell them at a higher price after they have aged. However, to protect your investment, a wine cellar becomes essential for long-term and safe storage until your wine has reached its optimal drinking maturity. Well-kept wines maintain a higher provenance, authenticity, and bottle condition which can help pique the interest of potential buyers because they know they've been properly stored and have preserved their quality.
5. Source of Pride
The prime motivation for building a wine cellar is for consumption and enjoyment. While many build wine cellars to house and organize their expanding collections, the vast majority are extremely proud and want to show off their wine collection to friends, family, and guests. Whether you're hosting a casual get-together with friends or a serious wine tasting, a well-organized, ornately-designed, and beautifully-constructed wine room is a physical expression of a collector's love and passion for wine. An elegant and sophisticated space to store and showcase your wine also creates a stunning focal point in your home to entertain and create memorable experiences for your guests.
---

Now that we've convinced you that the modern wine cellar is a must-have feature in your next home, let's explore some tips to ensure your custom wine cellar is the talk of the neighbourhood.
1. Temperature and Humidity Control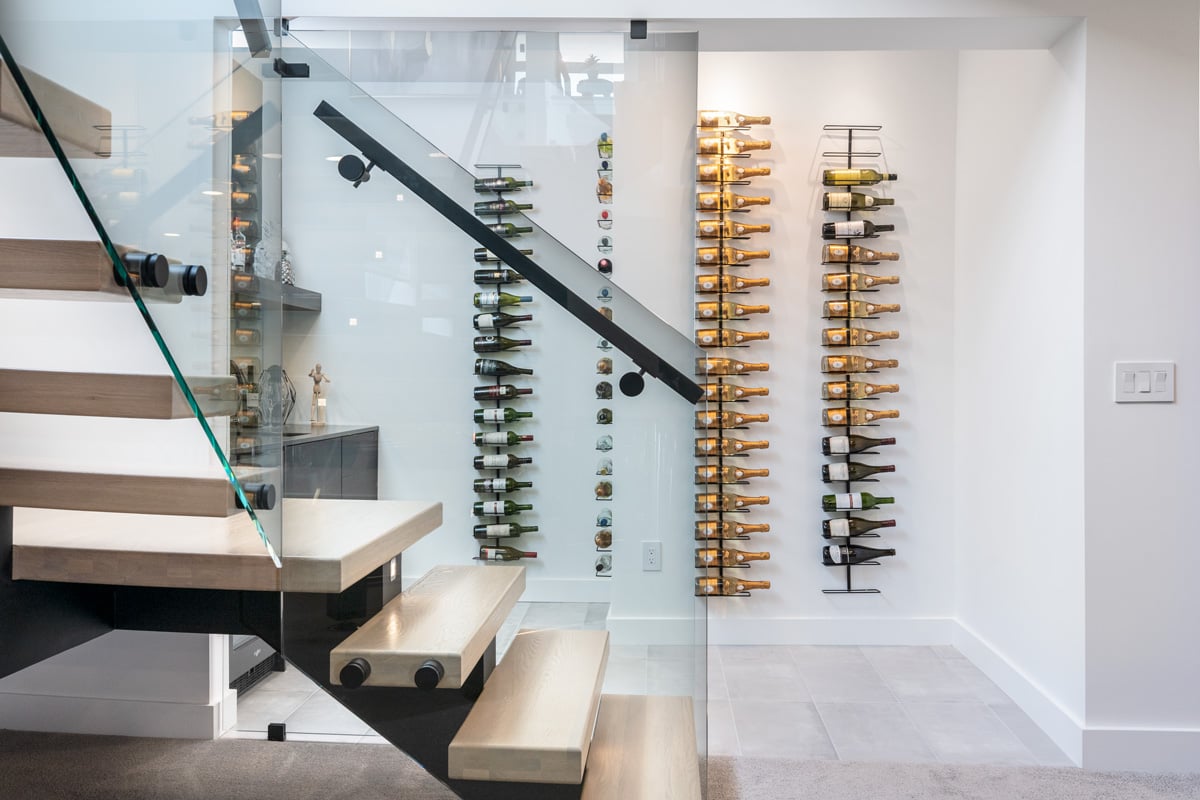 Pictured: Wine Room in the basement of our Aura 30 Show Home in Jagare Ridge
Temperature is the most critical factor when it comes to preserving the quality of your wine. The ideal interior temperature of a wine cellar dedicated to preserving wine should maintain a consistent 12°C or about 55°F with minimal to no fluctuations. Humidity is another critical factor to consider when designing a custom wine cellar. The ideal relative humidity range for wine storage is between 50-70% humidity in the ambient air, which should circulate naturally to reduce unpleasant odors, prevent corks from drying out, and keep wine from oxidizing.
2. Lighting
Lighting is one of the most temperamental factors of any wine cellar. Light can actually rearrange a wine's chemical compound—prematurely aging a wine and irreparably changing its taste, aroma, colour, and mouthfeel. However, these changes are dependent on the type of light exposure, the strength of the light, and the duration of the exposure as well as the type of wine and bottle the wine is in. Regardless, no type of lighting will entirely remove the issues of wine being light-struck. In fact, lighting is still an essential feature that can enhance the aesthetic appeal of your wine cellar. So be sure to use dimmable LED lighting because they emit minimal heat and can adjust brightness when required. Where possible, keep your finest vintage wines stored in as much darkness as possible and only use a dim light when making your occasional visits to your wine cellar.
3. Location
Last but certainly not least, we have the actual physical location of your wine cellar. Your wine collection represents a significant investment and protecting it should be a top priority. Given the need for a tranquil environment for your wine to thrive, be sure to construct your wine cellar away from the hustle and bustle of your everyday life. Your basement is an ideal location because it's typically an isolated space with less windows meaning minimal exposure to elements that can negatively affect your wine including changes in temperature, humidity, light, noise, and vibration. As an added measure of security, you can even equip your wine cellar with locks, alarms, and monitoring systems to ensure the safety and proper maintenance of this temperamental space.
---
Whether you're a serious wine collector or just want to add a touch of luxury to your home, a wine cellar is a must-have feature in today's marketplace. If you're interested in exploring options of building a wine cellar in your custom home that match your unique style and needs, you can contact us here.