While you're looking at custom home builders in Edmonton, you should be trying to compare them side by side with the specifications and processes that align with what you value. Each custom home builder has their unique approach on building a home and we've prepared this checklist of items we think are important to review. We've got a checklist here, and one that's ready to download with even more to fill out with any custom home builders' you're approaching.
Has the home builder has done custom homes before?
There are lots of home builders out there that may or may not have customized plans before. When you customize a floor plan the impact of the change could be quite large. Understanding if they've navigated this process before will give you insight into their ability to do what you want.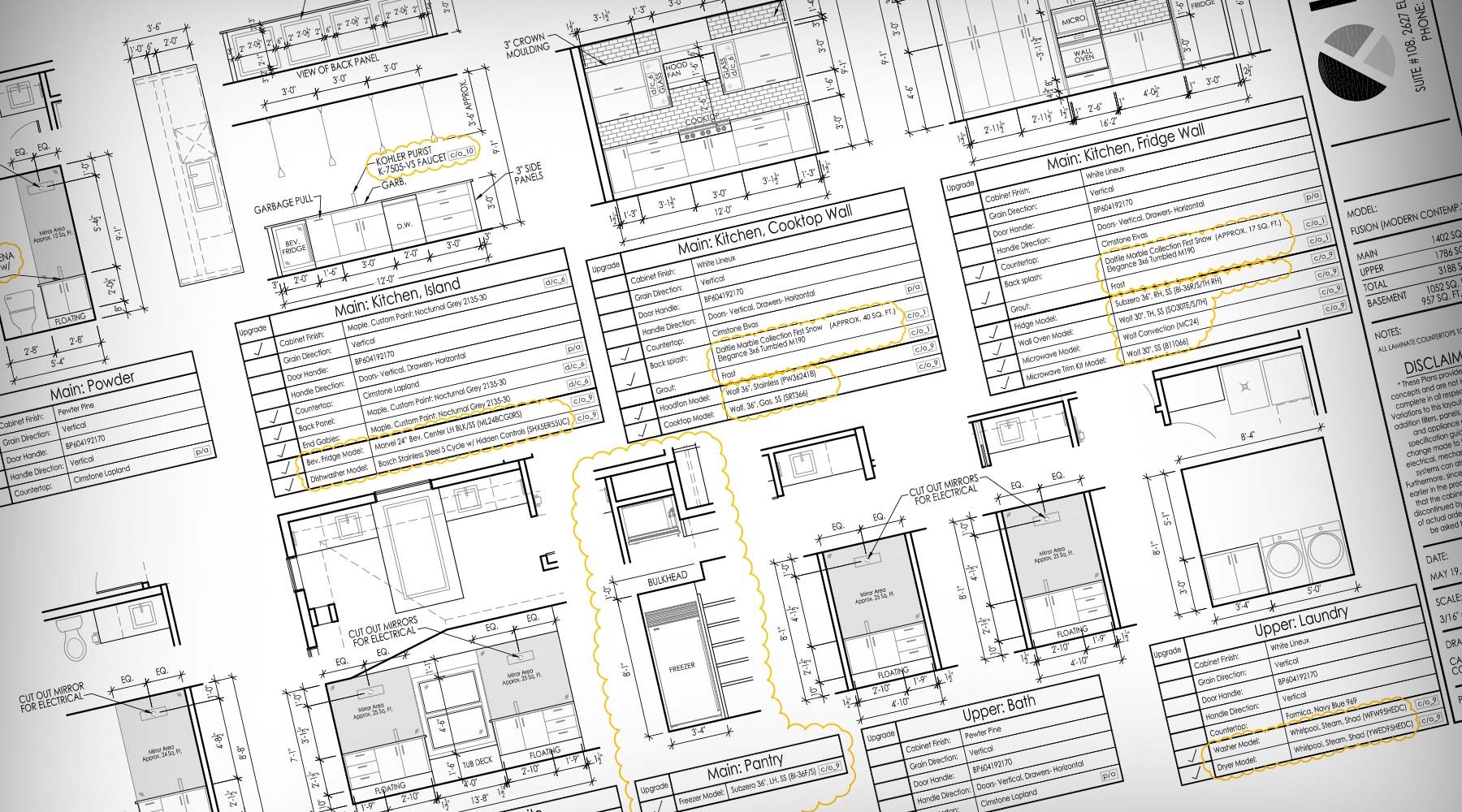 Who does the floor plan design?
Each builder has a different process for getting custom home floor plans. Most will have purchased plans and a drafter to make minor custom changes. A few will task you with seeking out a company to do the drawings at your cost. We're a bit different as we're a designer-builder meaning we have a larger design team (Architect, Drafting team, Interior designer and Kitchen designer) all in house. This helps us mitigate the risks associated with finding an outside designer whom might not have construction expertise or access to our construction team.
How many iterations and changes are allowed?
With planning a custom home you might not know exactly how change are going to look until you see them on paper. Having a discussion around the costs or limits of how many changes are allowed will help you decide if they're the right custom builder for you. We've had clients doing many, many iterations of the design and while we're setup to do so, not all are.
Is this cost plus or fixed pricing?
Knowing if the costing can float up and down during the build, or is fixed from the beginning will help you manage the financial side of the build. The more custom, the more costs could fluctuate should you go the cost plus route. At Kanvi, our process has been to follow fixed pricing, allowing us to build a high standard for our construction specifications.
See more about fixed cost vs. cost plus here.
How long has the builder been in business?
With engaging with any business, you should see how long they've been around, read their reviews and see if you can speak to any of their past clients. This will give you valuable insight into how they take care of their clients.
What is the warranty process?
While the warranty on your new home is legislated, how the warranty process works is up to the builder. Who tracks warranty issues? Who's accountable?
For Kanvi, we have a self managed online portal for warranty claims. Each of the claims are marked when you're satisfied, not the person performing the fix.
What kind of infrastructure do they have?
Almost anyone can start a business to build a home. Do they have the right people to do the work? Do they have financing to do so? Having the right people with the right systems allows us to build the home that you want, the way you want it.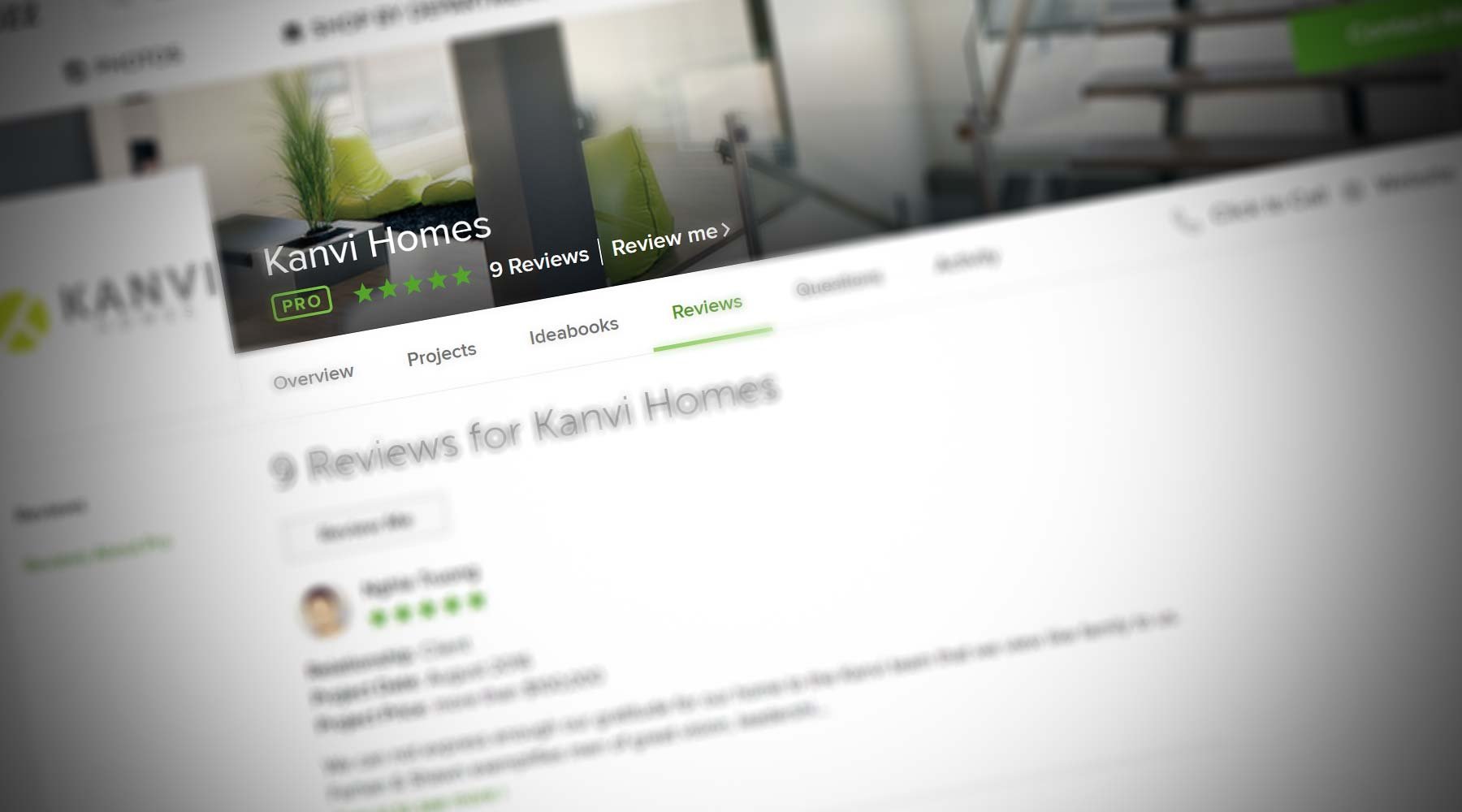 What do their reviews online say?
Online reviews allow you to see how homes have been delivered and gives you insight into how custom home builders treat their clients.
Any previous/current clients you can talk with?
One step further than online reviews is having a candid conversation with those that have built. You'll get the direct feedback of the process and how the overall home was built.
Are they apart of any professional associations?
Being a part of any professional associations like the Better Business Bureau, the Canadian Home Builders' Association or others shows that their serious about being a business in general.
How many homes do they do a year?
The range with custom home builders in Edmonton for homes built in a year range from 1 to around 100. That's a huge difference, and you'll want to pick a home builder that has the experience as well as doesn't think of you as just a number.
Do they do completion or draw financing?
Depending on the size of the home builder they may require draw financing. Usually a smaller contractor requires this, as they need the financing during the build to complete it. Depending on how you'd like to progress, and the amount of deposits you can make could dictate if a custom builder is right for you.
Want to get even more questions? Want a handy checklist ready to fill out? Download the Custom Builder Checklist and get the top 25 questions you should ask any custom home builder.