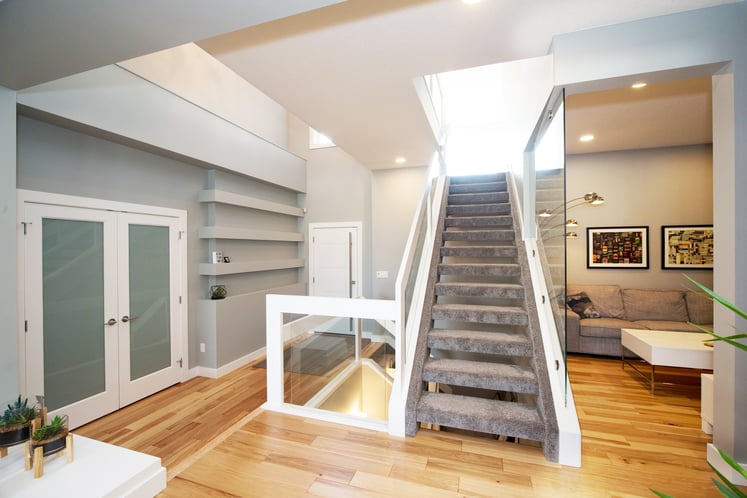 The den, typically an office, was changed into a cozy TV room, great for Netflix nights!
Carolyn and Marc are decisive, unequivocal, and particular – almost systematic – in how they plan. Curating pieces for their home and collecting inspirational images, they know what they like, what they want, what they envision, and they know how to communicate it. Planning their life in 10-year increments, their Kanvi home is their third custom build. "We've been through the process and know what we're doing," Carolyn says, "A year before we decided to go with Kanvi, we had actually gone with a different builder and we got all the way to the planning stages, but it just didn't feel right. We didn't get a good vibe from them, good energy, so we pulled the plug. It was a really hard choice, but it just didn't feel like a good fit. We waited a year and then we really started to do a lot of homework. We visited a lot of show homes and then we found the Kanvi show home and we really loved it. It's like when you find your wedding dress, we both just walked in and said, this is it." Carolyn and Marc began the process with their former builder by choosing their community – which was one of the reasons backing out of that deal was so difficult – but serendipitously, the lot they'd originally chosen was released to Kanvi and they were able to build on it: "This was meant to be, we knew we wanted to be here and, so it happened."
But even though they loved what they saw in Kanvi's potential to achieve their vision, they still dug deep and learned everything they could about us, including interviewing our clients, before connecting with our sales team. "We wanted customized," Carolyn says, "but customized to the way that we are. We are really detail-oriented, really precise, in how we like things and how we want things, and a lot of builders could do that, but said a lot of, 'Well… only so many changes.' But after speaking with Betty, who was our sales rep, it wasn't like that. When Kanvi says customized, they really truly mean customized." Before they even signed a contract, they'd given our team their proposed changes to the Hybrid model: "We redid the entire master bathroom, we redid the closet, we cut out things and put them together and built things in PowerPoint and gave them to the Sales Team and she would send them off to Kanvi's Senior Designer. They said, 'Yup, this can work, we can do this.' We had a good feeling about that. We really liked that even before we had signed anything, they were already on-board and willing to make changes and do what we wanted: something that would fit our family and our needs."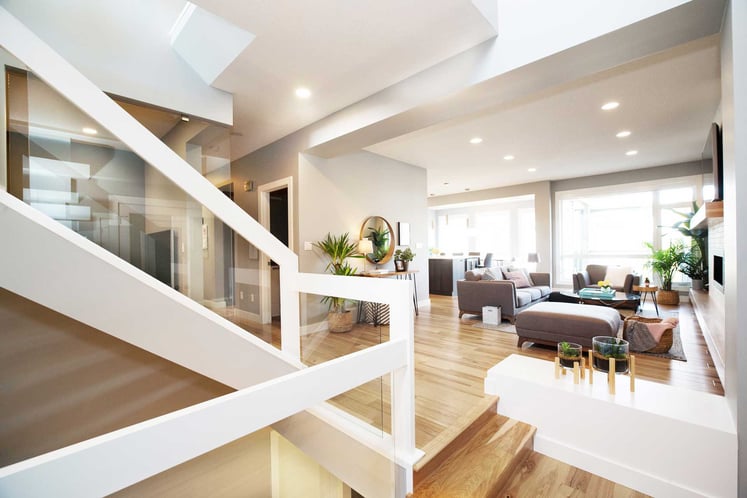 The entrance of the Hybrid gives a commanding view of the main floor.
Looking for a modernist home on the Scandinavian design spectrum that created a "light and bright, inviting and warm" ambiance using natural elements, textures, and colour tones. Choosing items that include light woods, cozy grey carpets, massive windows and an open staircase. "A lot of people think modern means cold and stark," Carolyn says, "and that's not what we wanted. We like to have a little bit of playful, a little bit of fun interjected everywhere." Like their "I'm sorry for what I said when I was hungry" print accompanied by a Ron Burgundy portrait.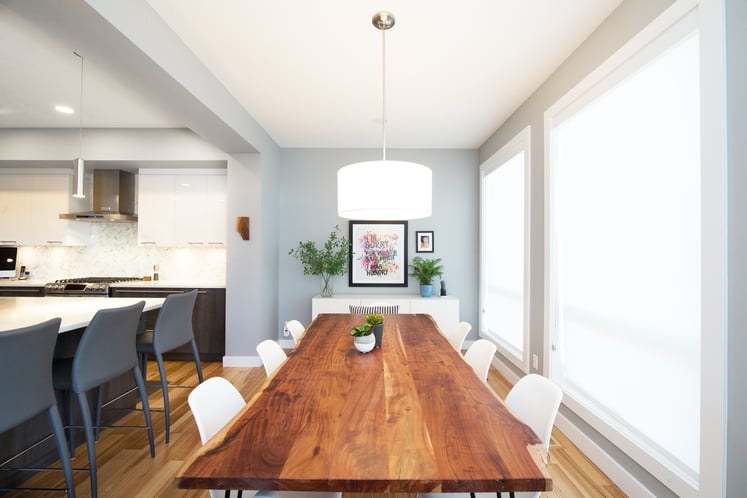 Can you spot the Ron Burgandy portrait?
At times, they wondered if Kanvi would "fire" them for being so intensely specific and challenging the design team's capabilities as far as accommodating their desired changes like relocating the 2nd floor laundry room to the basement (allowing each child to have a separate, full bathroom) to indicating the exact placement for electrical outlets, heating vents, light switches, and pot lights: "When I say custom," Carolyn says, "I mean we literally had a hand in everything. There were times when we wondered, 'Ugh, do we ask this?' And honestly, we were always met with, 'No problem,' 'Can do,' 'Sure.' Sometimes it took a little research or maybe it took a little longer because there were some things that we did in the house that I don't know if they've done before, or have only done a couple times."
The bonus room features rock pillows beside the tech loft.
When it came to a last-minute change to their garage near the end stages of planning, Marc and Carolyn were sure they "were going to get fired." Because Marc wanted the two-car garage to accommodate a small sports car he planned to buy, they wanted the design team to bump out the garage a bit but in a concealed way, so the exterior didn't look odd. Brittany and the design team more than delivered, they used a long board wood feature on the front of the house that extended the width of the garage and leads around the corner to the front door – with Carolyn's research and colour select, it's a beautiful feature that adds flow to the design as well as a modernist focal point.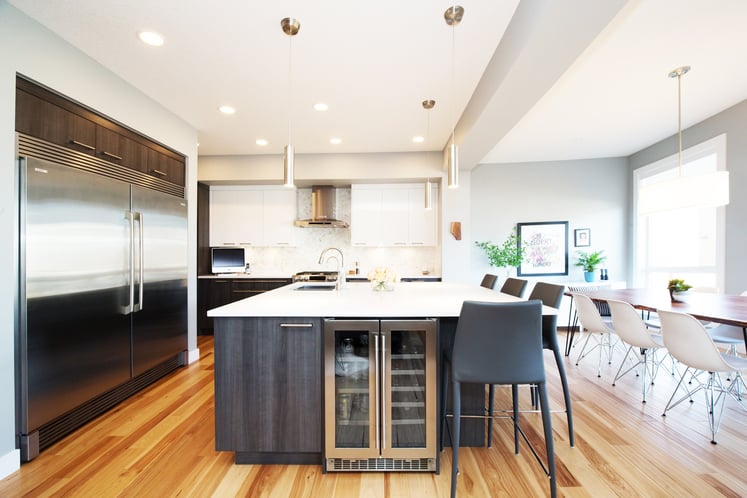 This modern kitchen is quite the dream!
But their kitchen is the true modernist masterpiece as under Carolyn and Marc's direction, it perfectly combines form and function: not a single bit of space is wasted. Their island offers storage all the way around it, including where the bar stools are, and their changes to the main floor bathroom created an L-shape off the kitchen where they planned and Kanvi designed an appliance garage to hide typical countertop items like toasters and coffee makers. Every single detail is designed for workflow, practicality, and function without compromising style. Another distinctive feature is the fireplace: "I have always wanted a white brick fireplace with some wood mixed into it, I found a picture that was similar and then we just did a little bit of back and forth with the design team and then we finally settled on it. The bench portion is really functional. People actually sit there, our kids will sit there and read or play. Another aspect that was important to us was that we really wanted the house to be, warm and inviting and easy to entertain in."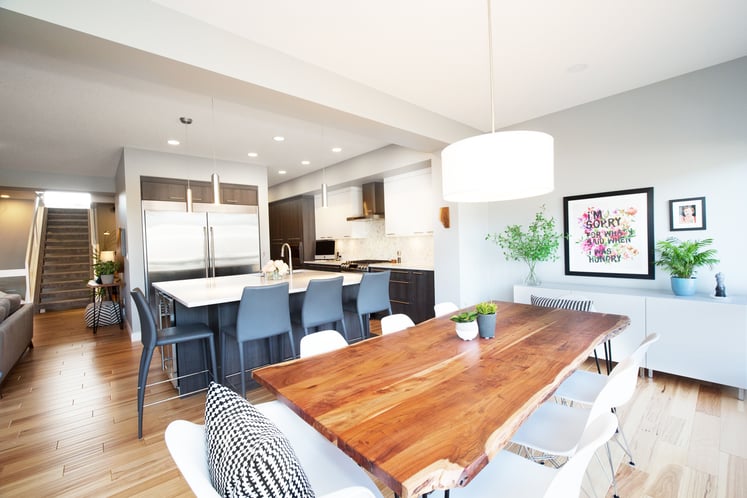 Carolyn and Marc were drawn to Kanvi's young team, "They were full of fresh ideas and they just had a great energy to them. We are firm believers in innovators. We like that Farhan is a younger president; I think that speaks a lot to the company and what kind of culture they have." A culture that Carolyn says caters to their clients, ensuring that their vision becomes a reality, while also connecting with clients on a personal level: "We weren't a job number. We were a family, we were people. They knew our kids, they knew our kids' names. We had to go the office a couple of times, and they were always very welcoming. Everybody from the receptionist right to the design team they were just wonderful. The entire construction team were really amazing to work with and a huge part of what made the build go so smoothly. It was a really great experience. We've already said, our next home, ten years down the road, will be a Kanvi home."