As home builders, we have clients who aren't sure what they want and need guidance throughout the process and we have clients who know exactly want they want and communicate it. Joanna and Taylor are the latter: refreshingly direct and straightforward, they know who they are, what they want, and what they need. And while they were incredibly specific about their home's requirements, they also had a respect and reverence for the process that allowed us to bring their vision to life.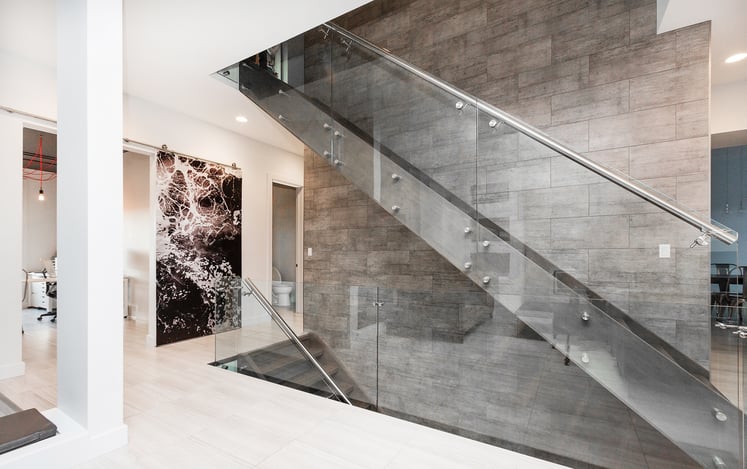 The main floor features this beautiful staircase that acts as modern art. As busy professionals with a young family and a deep appreciation for nature, securing the right location was paramount to building the perfect home, so Joanna and Taylor purchased their land before they found a builder. "The neighbourhood we chose is the perfect distance for travelling to work without traffic issues, without it being any time consumption of our life," Joanna says, "The neighbourhood that we're in, it's great. We're across the street from the ravine so there's lots of parks and areas to play and get outside. It's absolutely beautiful." Luckily, the area they chose allowed them total freedom in choosing a builder, so they set about researching and selecting a builder who they could confidently rely on to deliver the right aesthetic: a modernist home. As a designer himself, Taylor has specific tastes and, as a pragmatic couple whose lives depend upon a sustainable and unencumbered workflow, modernism's emphasis on function determining form was a perfect fit for their needs and their style. But the key to finding the right builder wasn't only modern design, but also communication. While they needed to see proof that their builder could create the right aesthetic, Joanna and Taylor also needed a builder who they could rely on to take the lead on design selections and deliver.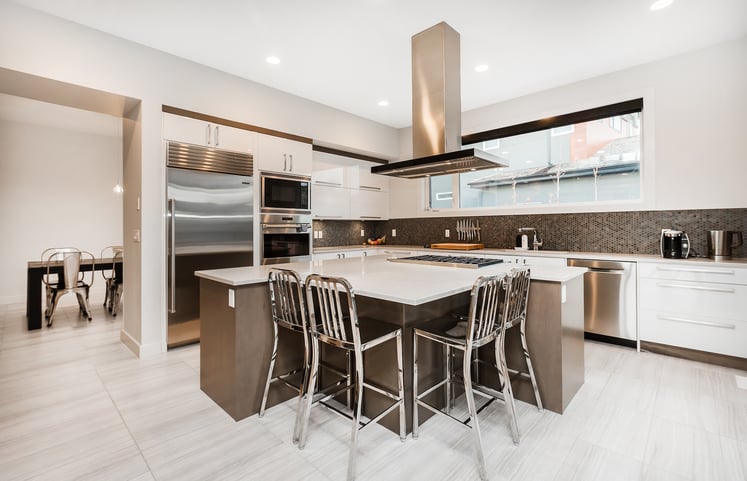 The kitchen is located at the back of the home, and features this unique island that houses the cook top.
"Taylor is a designer," Joanna says, "So he had a vision of what he wanted and it was difficult to find exactly what we wanted because other people would try to use different design styles that just didn't work. He understands the industry, he understands the aesthetics, so it was really important for him to work with someone who also understood it and not just kind of piece things together." Originally, they planned to build a completely custom home, but after seeing what Kanvi could do and meeting with Farhan to discuss their requirements, Taylor and Joanna were delighted to find that he fully grasped what they were looking for: "Farhan actually said, 'Hold on, come look at this,' and showed us a floor plan they had already done that matched 95% of our requirements right out of the gate," Taylor says. As a result, they went with an existing Mecca floor plan and made some modifications to it like raising the ceilings in the basement as well as the above-grade floors and taking down some walls. "One of the headaches that I had in trying to talk to other builders is that I didn't feel that they got what we were looking for or they couldn't show us that they got it. But Kanvi did," Taylor says.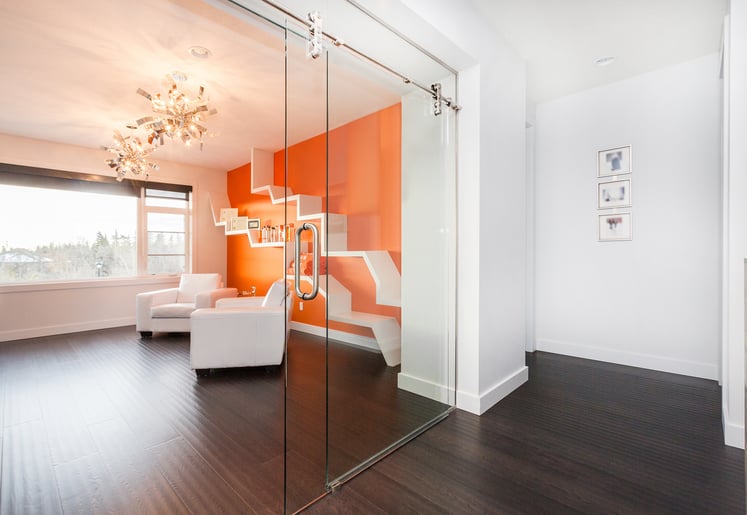 The Bonus room has been converted into an office for Joanna's business needs.
The only restriction on their home design was the exterior; the neighbourhood had architectural guidelines Kanvi had to adhere to. Unfortunately for Taylor's desired style, this meant no flat roofs, but the couple is happy with how our team worked within those guidelines to create an exterior that works for their style. As far as interior design, they didn't want to spend time meticulously pouring over minute details, so Joanna and Taylor provided inspiration and direction and let our team run with it, giving them the opportunity to flex their design muscles and the freedom to make full use of their creativity. "Because I was so specific upfront about finding someone that could execute the style that we wanted, once we found them, I was like, 'Well, I want to trust you.' The way we worked with Kanvi and doing design selection is I showed Rebecca inspirational images and said, 'You go find it, you go figure it out,' and she was like, 'Really?' and I said, "Yeah, I really don't want to spend the day at the flooring store looking at samples, why don't you piece it together and let us know when you have something and we'll come back and we'll look at it.' So, she did that and came back with some really awesome ideas that just nailed it. We made a couple of adjustments, but I think we kept 90% of what she presented at the start."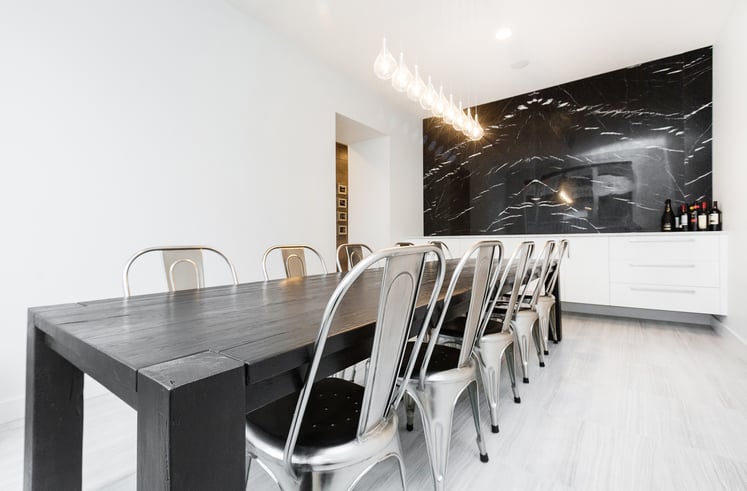 The private dining room features a floating bar and a unique stone vaneer installation that acts as a focal point.
Above all, they wanted a functional home that was classically modernist: clean lines, natural elements, open spaces that create flow, and a timeless colour palate. While most of the house is designed for flexibility and versatility (they want to live there for 20+ years and need it to accommodate their kids as they grow into independent teenagers), the home's most individualized and stylized aspects are Joanna and Taylor's home offices. "Our style is very important to us," Joanna says, "and we chose a neighbourhood that was conducive to our work so that our travel time isn't in any way a factor. One of our home's required specs was two very custom and functional home offices. Taylor spends a little bit more time in the office here, but we are both in and out of the house all day long. We needed comfortable and spacious offices so that we're not cluttered and we wanted rooms that felt good, that felt like us. That was a non-negotiable on our end. Most people's home offices are either a bedroom converted into an office or just any room that they will throw a desk in. Ours are basically designed differently from the rest of the house, top to bottom." Joanna and Taylor provided specific direction and ideas about how they wanted these offices to look and feel and the designs are perfect representations of who they are: Joanna's office is bright, open, and spacious with clean, modern lines, lots of light, and bright colours, whereas Taylor's is a little bit darker, masculine, and classic. Joanna's office features original, custom shelving designed by our team and Taylor's boasts an industrial style light we selected that he gets compliments on regularly.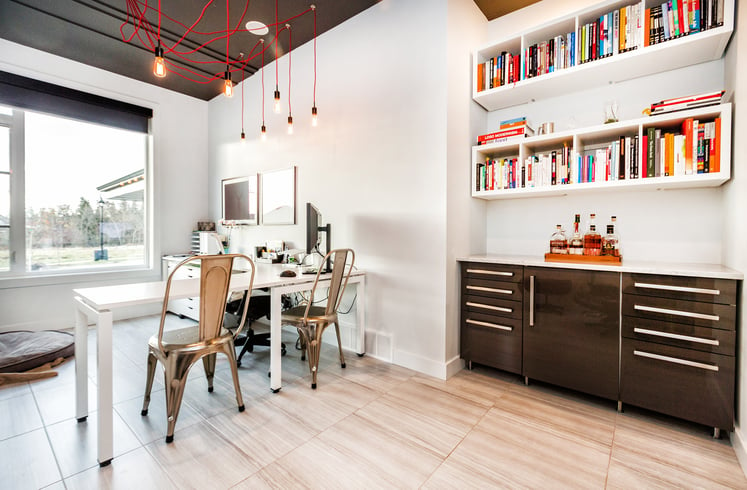 Taylor's office features a unique ceiling decor and plenty of storage.
Looking at their finished home and the entire design and construction process, Joanna and Taylor aren't just happy with their home, they're also happy with Kanvi. Taylor says, "Customer service was what Kanvi did exceptionally well. It's unusual for the owners of a building company to be personally in touch with their clients, but we were in contact with Farhan and Shafin through email, and they were personally working with us on our house, which is just unheard of in the industry – that was amazing! Any bumps we came across in the process, which of course are bound to happen, they smoothed out very quickly without any problems. They addressed everything that needed to be addressed without any hesitation, without any big showdowns, which is obviously very appreciated when you're working on such a big project. That's where we really found them to be outstanding, just with the customer service, the personal touches, and their involvement in their work. They genuinely cared about making sure that we were happy with it. When anybody asks us who built our home, we're always recommending Kanvi."