A family of travelers, the Lees are also homebodies and hosts, frequently entertaining friends and family in their Kanvi home, a customized Aurora. Parents to a six-year-old son and a nine-year-old daughter, Peter and Melodie Lee wanted to upsize to a home that would give their children the space they needed to grow into their teenage years.
While they knew they wanted to build in the Granville neighborhood, they'd originally planned to build a home they needed, but after choosing Kanvi, they also built the home they wanted. After checking out countless show homes in the area, the Lees noticed that all of the houses looked the same. They were disappointed with what they'd found: "We wanted something different," Peter says, "something unique, something more our style."
On a whim, because Peter worked in the same building as Kanvi's offices, he popped in one day to see what they had to offer and discovered that Kanvi wasn't only an approved builder in the Granville community, but also the builder he and Melodie had been looking for. Attracted to the modern look and feel and the customizable floor plans, the family went to visit a Kanvi Fusion show home and were blown away. "We loved its uniqueness – the stainless steel rails and it featured a lot of glass, lots of large windows, all of which was very different," Peter says.
"The salesperson was really friendly," adds Melodie, "and Kanvi's the only show home we went to that actually caters to young families. They had toys and activities for the children so we could talk to the salesperson. The kids were so excited about it, they only wanted to go to Kanvi show homes! We also liked the openness and all the storage – every space seemed to be useful, there was no wasted space."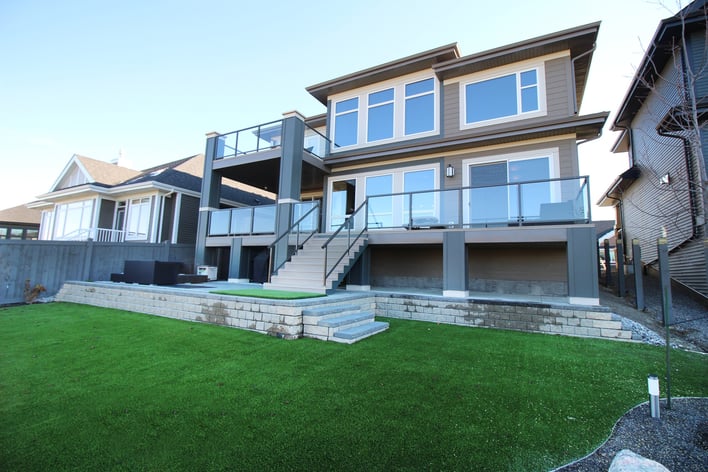 The Landscape design creates a beautiful outdoor living space for the whole family to enjoy.
Once they'd selected their floorplan, the Lees began the design process. While both Melodie and Peter were overwhelmed by all the choices and selections they had to make, they loved that the design team corresponded with them in advance to exchange ideas and inspirations. From what they sent, the design team narrowed down their options "to save us grief and time," Melodie says, "By the time we met, it was pretty much one, two, three, done!" The Lees' design goal was for a harmonious, elegant, and peaceful home. Melodie wanted it to be welcoming and calming – a stress-free haven where the family could connect wholeheartedly.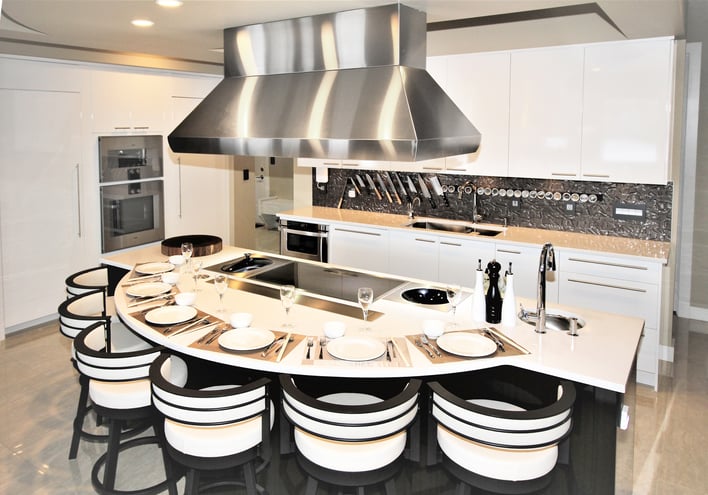 As a hobby chef specializing in Cantonese cuisine, Peter asked Kanvi to build his dream kitchen.
The Lee family home's centerpiece is the kitchen. As a hobby chef specializing in Cantonese cuisine, Peter asked Kanvi to build his dream kitchen. Particular about the kitchen's style and function, he required induction technologies rather than gas, which included an induction cooktop and a wok hob (a specialized burner designed to heat the entire wok at once). Peter's kitchen also includes a Dim Sum steamer (which also acts as a water bath for pastas and noodles), a combi oven (which adds humidity to the cooking process), a warming oven, built-in full-size freezer and fridge, and a custom, magnetic, wood block to hold knives and spices. To accommodate his culinary needs, our team designed his kitchen as what Peter calls "an assembly line" to create a streamlined workflow from pulling food out of the fridge through to prepping, steaming, cooking, and serving. Melodie added her own touch to the kitchen by suggesting a rounded chef's table island to seat guests. Because their kitchen verges on commercial, it required a commercial-grade hood fan to effectively circulate the air, which presented us with the challenge of modifying the return air and air flow system to pass inspections. Since moving in, Peter has already cooked for over 100 people in their home!
While the kitchen is arguably Peter and Melodie's favourite room, Melodie is also in love with the master bedroom where they have a massive ensuite bathroom with a jetted tub and a huge shower: "The whole family could take a shower together if we wanted to!" With a customized California closet and an abundant balcony with views of the lake, the master bedroom is Melodie and Peter's oasis. So much so that they missed their bedroom while vacationing at the Wynn in Las Vegas!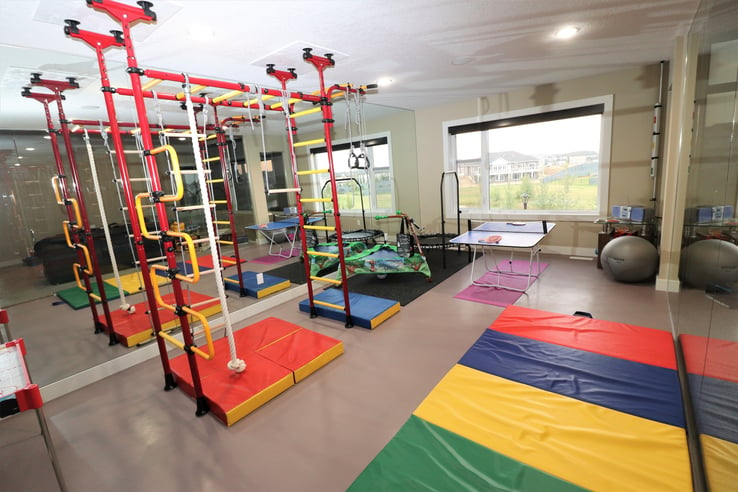 The home gym is great for the colder months of the year and making sure the kids are still active.
For the children, Kanvi built a home gymnasium/games room to accommodate the monkey bars, climbing ropes, tumbling mats, trampolines, and tabletop games. "Both kids were in gymnastics," Peter says, "so they really love climbing and playing in the gym – everyday, they're in there climbing on something." The home also boasts an Olympic designed table tennis room with red, rubber floors and a blue Butterfly table.
The Lees appreciated the Kanvi team's flexibility from redesigning their daughter's room to have her own full, ensuite bathroom to expanding the main floor bathroom to include a shower; and from relocating the laundry room to the main floor to building a custom shoe cabinet. "We had a lot of change orders from the original Aurora plan and we always asked for revised drawings and quotes," Peter says, "but we never once felt like we were hassling them. They were always understanding about what we wanted and what we needed in our new home. We didn't feel uncomfortable at any stage or like a pain to them." The team even offered additional suggestions to optimize their home near the project's completion, like automating hard-to-reach blinds.
After nearly two years of planning, when the Lees moved in, the house was absolutely perfect – no surprises, no changes, just pure satisfaction. "There are certainly a lot of wow factors when people come to our home," Peter says, "Another small thing Kanvi does in their homes is a gallery feature where we can present photos of our children. It's a small thing, but it's designed into the homes, so you don't just have large empty walls, but an indented feature with lighting that just looks so awesome!" The Lees couldn't possibly love their home more, "This is definitely our dream home," Peter says, "it's beyond what we envisioned."