Pragmatic and precise, Sam and Monica are a couple who not only know what they want, but always have a plan. Research and analysis isn't just part of their careers, it's in their DNA. By analyzing and assessing their parents' homes, their former homes, and show homes, Sam and Monica created a concrete, practical plan to build a custom home that's both beautiful and functional. "We didn't build our first house," Sam says, "We bought an existing home and lived in it for about five and half years. Then we worked out the kinks of what we liked and didn't like and decided to build a house to our specs."
Years of hands-on data collection resulted in a plan to build a custom home: "There is always something people aren't utilizing, or not using as much, in their homes. And I felt like the only way to get the most use of the house was to customize," Sam says, "We didn't customize to put a hot tub in the living room." Not wanting a "cookie cutter" home, they wanted something that combined form and function in a way that optimized the space and offered an innovative yet accessible aesthetic. The key elements: open concept, an abundance of light, neutrality, and functional design. "We wanted white walls, big windows, and natural light," Monica says.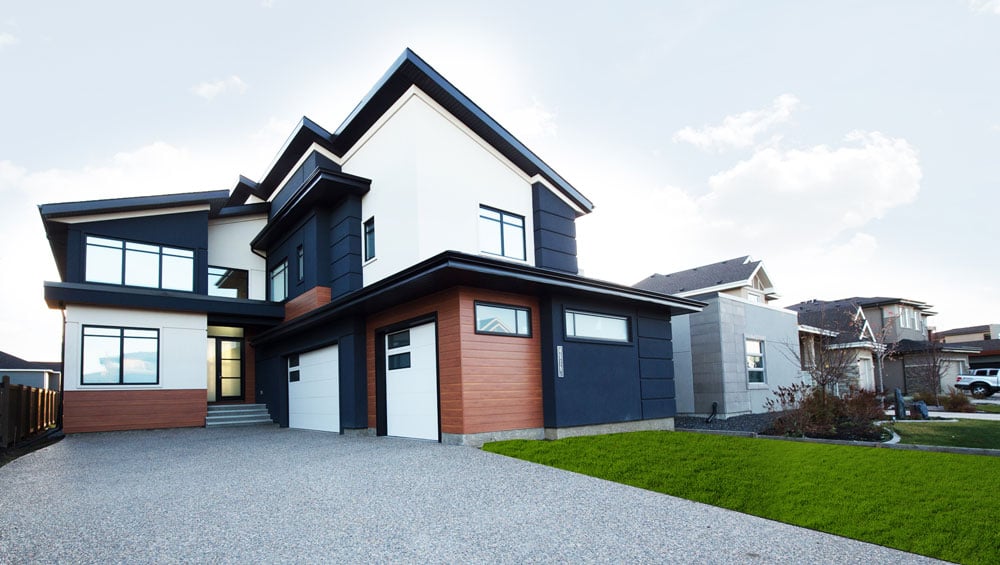 The exterior of the home translates the style of the interior - clean and modern.
Because they knew exactly what they wanted, Sam and Monica had drawings of their home before they had anything else – so they needed the right lot and the right builder. The first step on their journey was finding the perfect lot: "It backs onto a ravine, so there are a lot of trees back there. It is like a bird sanctuary back there too. I don't always like being outside, but I like to look at the outside from the inside. In that way it's serene and relaxing." When they found their lot, a different builder owned it, so their realtor said, "I know who to talk to" and introduced them to Kanvi.
At their first meeting with Farhan, they discussed Kanvi buying the lot, if Kanvi could build the home, and what kind of modifications the plan would need. Farhan was optimistic and took the time to review the plan with Kanvi's designers. "They basically finalized the plan for us and presented us with some drafts to choose from – actual plans, square footage, and things like that." Farhan and the Kanvi team thoroughly impressed Sam and Monica from the very beginning: "Before we actually signed a contract with Kanvi, they had done quite a bit of work on the floor plans," Monica says, "Essentially up to the point where it was really close to the final product before we signed. For them to be 'all hands on deck' committed without actually having any commitment from us, should be commended because they put a lot of time and effort into it without a guarantee."
Between the ease of talking with Farhan and Kanvi's commitment to their vision, Sam and Monica had found their builder: "There are lots of modern builders, there are lots of custom builders, but I think you have to weigh customer service, performance, and communications because there are similarities between all the builders. We chose Kanvi because they are organized, they communicate, and they're good to deal with in general."
As frequent travelers, Sam and Monica often find themselves exploring "concrete jungles," they love the hustle and bustle of big cities and their state-of-the-art architecture, so it's no surprise that Sam's creative twist on their Kanvi home is a 20-foot tall, commercial glass wall like "the ones you see in downtown buildings on the first floors." But this feature posed a challenge for Kanvi. In commercial construction, this type of glass wall is called a curtain wall and requires specialized engineering. And while commonplace in the commercial realm, it's an unusual element in residential construction. "We were kind of the bane of their existence for a little while," Monica says, "Just because it was really hard for them to make it work, but they made it work and I think they tried really hard to give us what we asked for."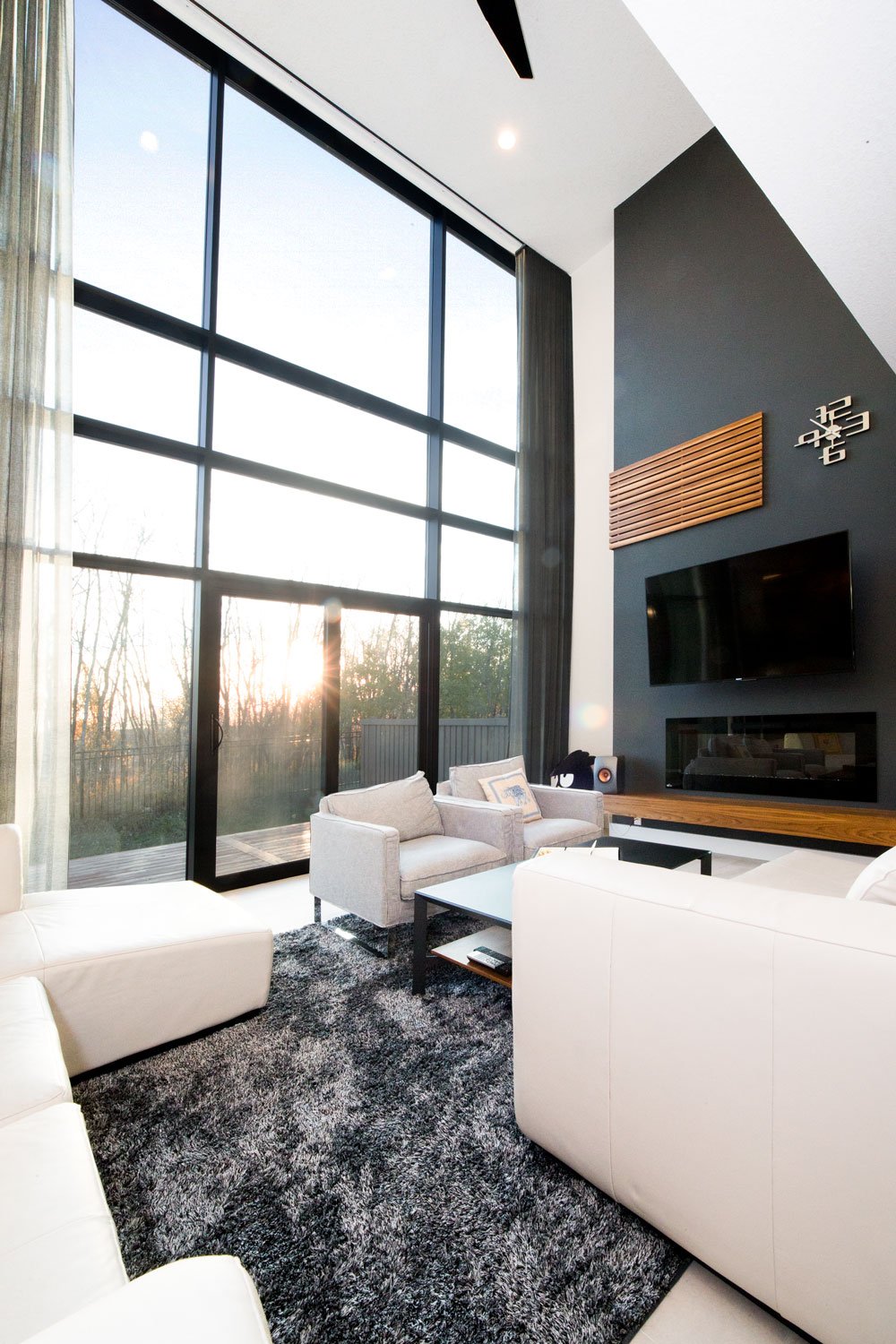 The two story curtain wall is quite the stunning feature.
As a result, the build process took longer than usual to complete, but Farhan personally led the process. Kanvi's team knew a lot of things. If it can't be done, they would know. Kanvi's team guided us, and they were very easy to talk to and kept us informed throughout the process."
"Kanvi is good at understanding exactly what it is that we are looking for, and they are really good at getting the result," Monica adds, "They're not all talk, they are able to deliver and hold themselves accountable. You know that what Kanvi says they are going to do, they are actually going to do it."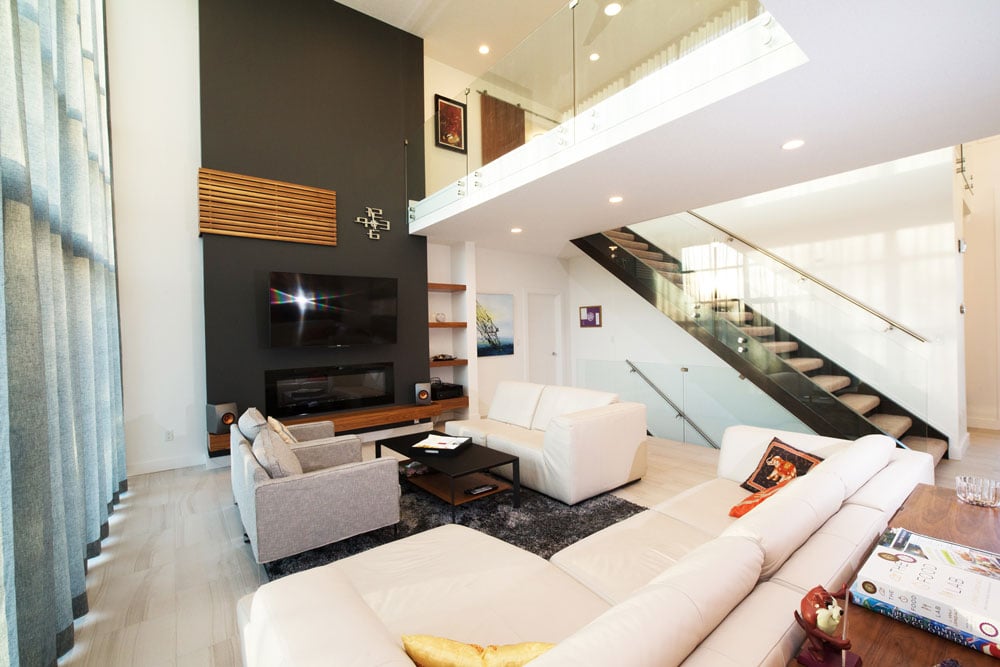 Two story fireplace features contrasts well with the clean white walls.
Ultimately, Kanvi built a home that beautifully blends the minimalist, monochromatic aesthetic of cutting-edge commercial spaces with modern residential design. Every design and décor decision in Sam and Monica's home is intentional from the neutral colour palette – cool whites and greys – to the warm walnut focal points throughout.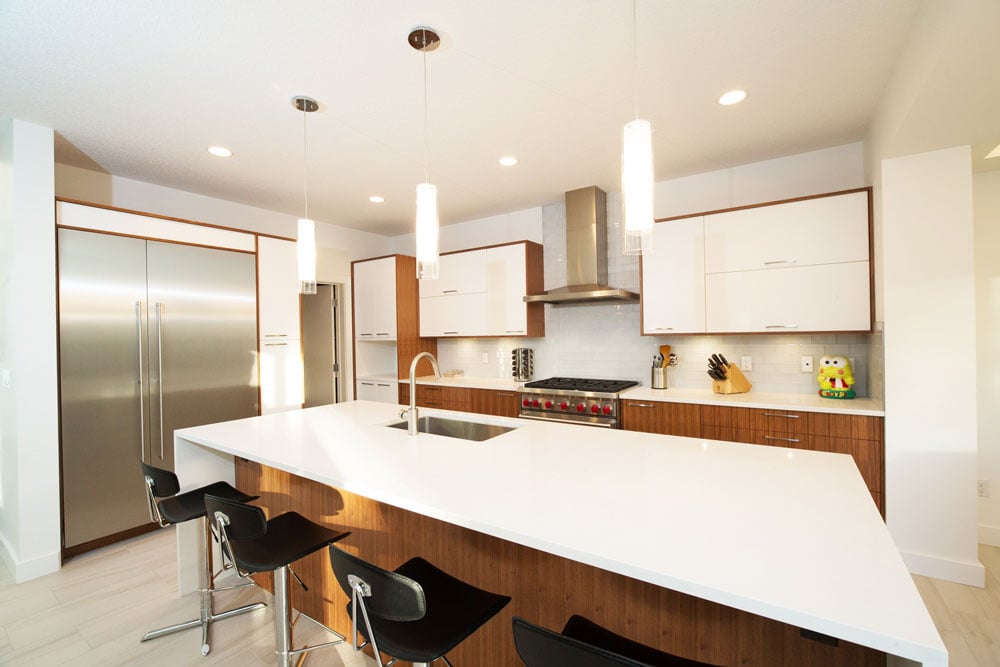 The kitchen is minimal, functional and a clean canvas for culinary endevours.
Their 20-foot glass wall stretches through an open-to-above great room, highlighting the stunning fireplace and showcasing the ravine's natural beauty. Complemented by architectural glass railings, stainless-steel appliances, and a neutral tile floor, Sam and Monica's modern home exudes class and simplicity at its finest.