---
We know that designing your new home is creating a truly personalized atmosphere. Setting the tone for your home also includes selecting the best flooring for all your unique spaces. From the mudroom to the ensuite, the right flooring can complement your lifestyle with the right look and feel. Because not all types can be suitable for just any area, practicality and personal taste may truly influence your decision. With a Kanvi home, our interior design team is here to help place all the pieces together. To gain some insight into the types of flooring available, here are some items we choose to include in our contemporary style homes.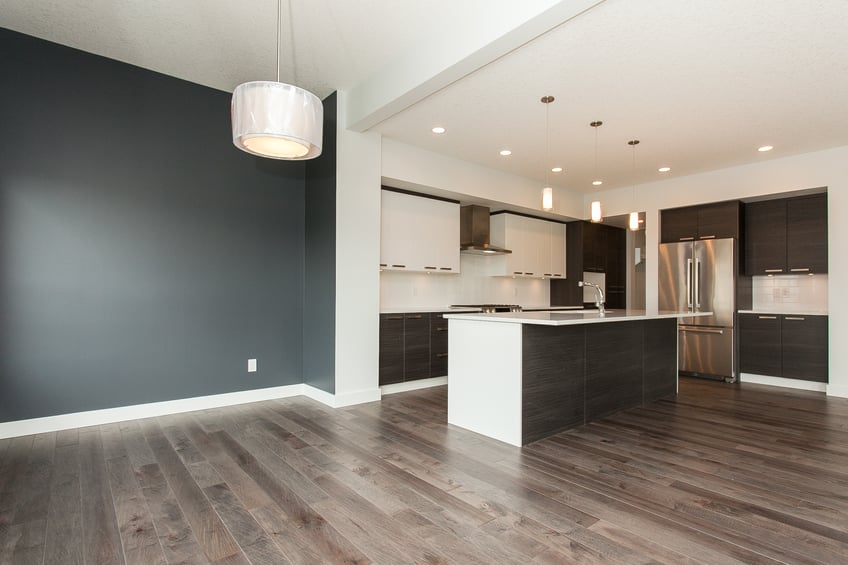 ---
Solid and Engineered Hardwood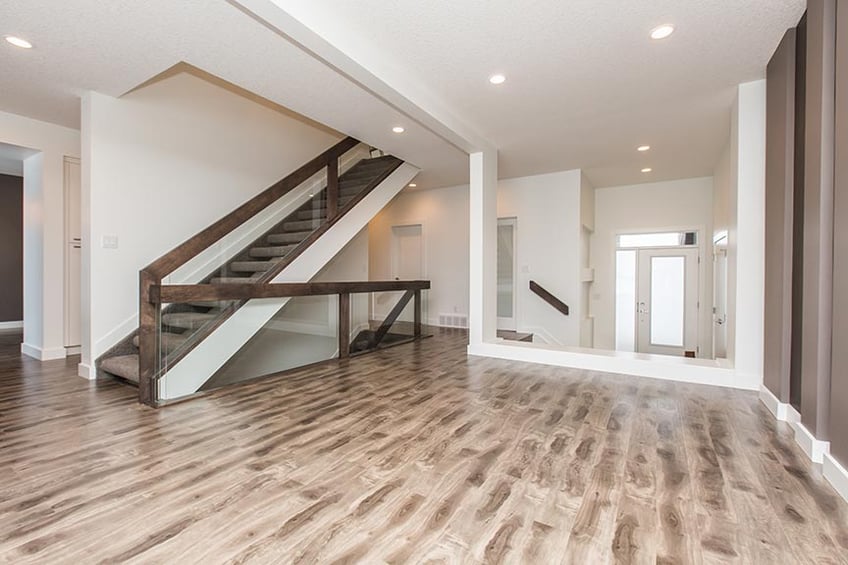 Solid hardwood flooring has been a popular selection because of its quality and longevity. An important aspect of hardwood is that it can easily create warm tones in your home, especially when designing a modern home. At Kanvi we use a Canadian-made, solid 3-1/4" Maple that comes in a variety of colors to match any color scheme. The thickness of solid wood allows for your floors to be sanded down and refinished over the years. Solid hardwood is recommended for spaces at ground level or above because it is common for the wood to expand and contract to moisture and temperature changes in your home.
Another option is engineered wood which consists of a layer of hardwood veneer overtop several layers of alternating hardwood or plywood. This allows for each piece to be more resilient to moisture or heat than solid hardwood and can be an adaptable flooring option. Because of its structure, you are less likely to see buckling or gaping in reaction to humidity and temperature fluctuations. Engineered flooring can be installed on any level, including the basement. Wider plank sizes and lengths allow for more freedom to design your space with different looks. Another wonderful option for every Kanvi home is a 5" engineered oak in a brushed finish to help hide scratches and imperfections. Because of its rustic texture, engineered hardwood is popular with trends you see today and are available in many colors.
Tile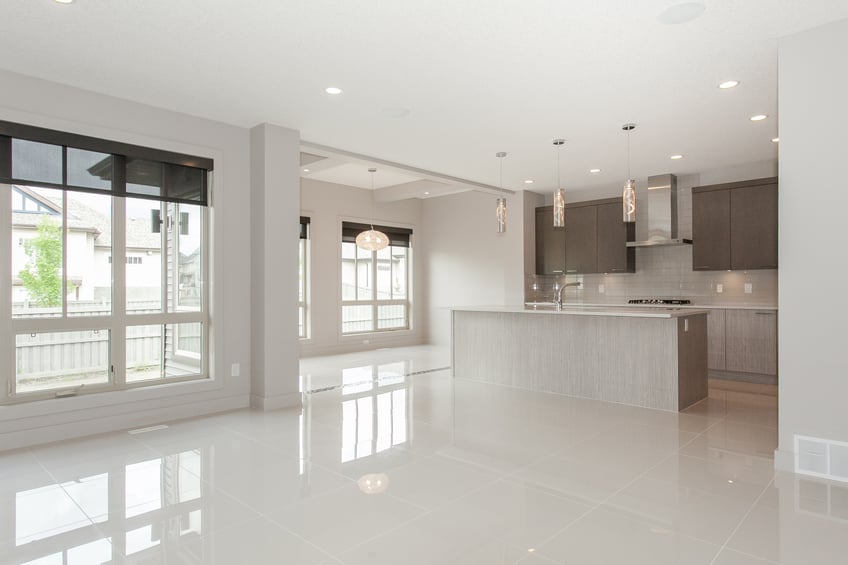 With versatile designs and colors, tile flooring can make for a beautiful choice in any home. We like include rectified, through-body porcelain tiles in our front entrances, mudrooms and bathrooms. Porcelain tiles are similar to ceramic tiles, but are made from much finer clay. They are sprayed and shaped by dry press to form a ceramic material that is then fired at high temperatures. One of porcelain's most important characteristics is its resistance to moisture. It is also resistant to wear, deep abrasion and frost. Rectified tiles have been mechanically processed to ensure that all the tiles are uniform in size and are perfectly square. Our tiles are usually seen in 12" by 24" dimensions. Talk to your home builder in Edmonton or St.Albert about adding radiant heat flooring underneath your tile selection to keep your toes warm in the winter months.
Carpet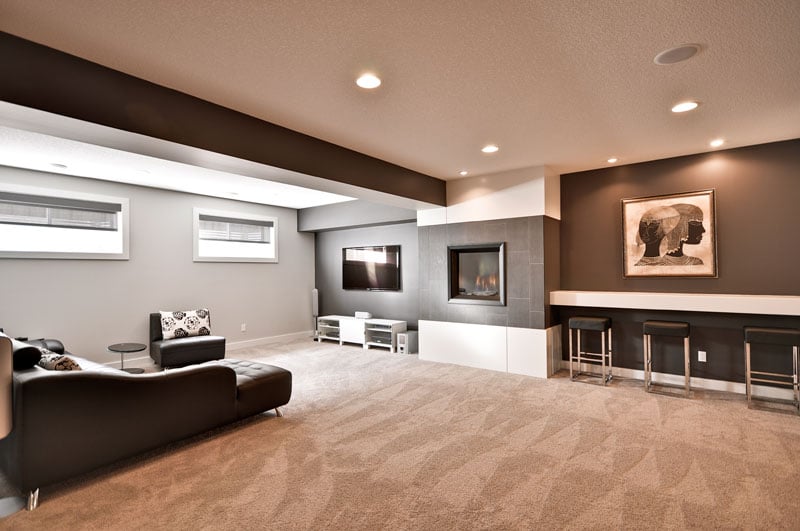 Known for its warmth and comfort, carpet is the softest option and can last decades when properly maintained. Carpet has properties of being allergenic by allowing dirt and dust to be vacuumed up, as opposed to settling on a hard surface or circulating into the air. With its high acoustic value, carpet helps to reduce sound transfer in your home. The carpet used in a Kanvi home is one of the most sustainable in the industry. It is made from premium PET polyester fibers and is made up of 100% recycled content. Our modern selections include a wide array of colors and will also include a topical Scotchguard treatment to help protect. The treatment will need to be reapplied by a professional carpet cleaner on every 3rd steam-clean (roughly every 5 years). Our carpet has a lifetime stain and soil warranty (if kept up with reapplying the Scotchguard) and a 10 year warranty against abrasive wear, texture retention, fade resistance, and manufacturing defects.
Other considerations
With improved printing and production technology, laminate flooring has the ability to capture the look of hardwood, ceramic and stone designs at an affordable price. There are generally four layers that make up laminate flooring to protect the floor from stains, fading, and warping. These layers allow for laminate flooring to have excellent stain and wear resistance. Laminate is great for active children and pets. However, damage can appear when exposed to water for long periods of time.
Similar to laminate, luxury vinyl is made up of synthetic layers that are scratch and scuff resistant but also include water-resistant properties. Luxury vinyl works well in moisture sensitive areas such as bathrooms and kitchens. Planks can be created with texture technology and can truly imitate the feel of wood graining and distressing. Luxury vinyl tiles are also available in a variety of styles and can retain the look of natural stone, porcelains, and metal.
With a Kanvi home, selecting the right flooring can be stress-free. Visit our show homes and talk to our experts about the options you would consider and we can provide all the details.
Was this article helpful?

---