When you're thinking of building a custom home, especially when looking at building an infill in Edmonton you'll see lot of amazing options. There's quite a few builders that can create custom homes, but how they do it can vary dramatically. When you're planning a custom home or an infill part of the process begins by working with a designer and there's two main different routes you can go. Each family that needs a home is different and picking the route that fits with them is one of the most important parts of the home building process.
Using a Design Firm then finding a General Contractor
Edmonton has some amazing architects and home designers. Each will have different design philosophies and styles that are fun to explore. Design firms are just that, they're a service that you pay for to make the plans for a custom or infill home. There's only a few design firms in Edmonton, and many home builders.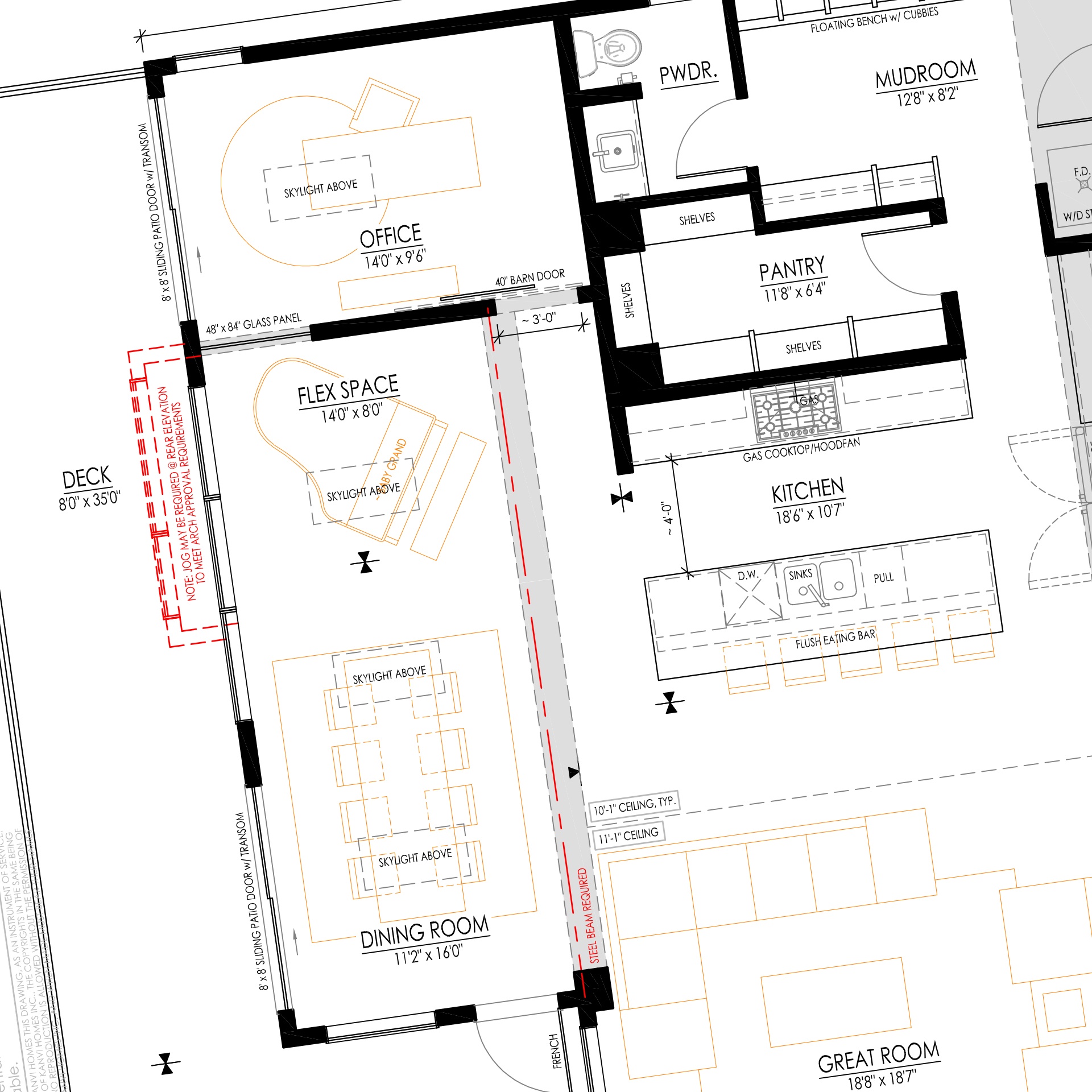 A Design firm is primarily concerned with designing exactly what you want to see. They focus on capturing the details and translating them to a drawing, which they will sell to you, then you can go and find a general contractor to build the home.
The Design firm focuses solely on floor plan and exterior design. We've worked with many clients that have gone this route and it's highly involved. The designer doesn't always plan to the capabilities of the home builder, and there can be gaps in understanding what's actually outlined. This isn't done on purpose as the designers role is just that, to be a designer. Plans are sold to you typically by a cost per square foot and there's costs for revisions. If you're building a custom home you might not fully understand what you want until you see it and using a Design Firm might mean a few revisions. If you want to be highly involved and have the time, this could be a good route because you become the project manager between the design firm and contractor. If the contractor is telling you something can't be done, and the designer says it can be, you get to decide what's best.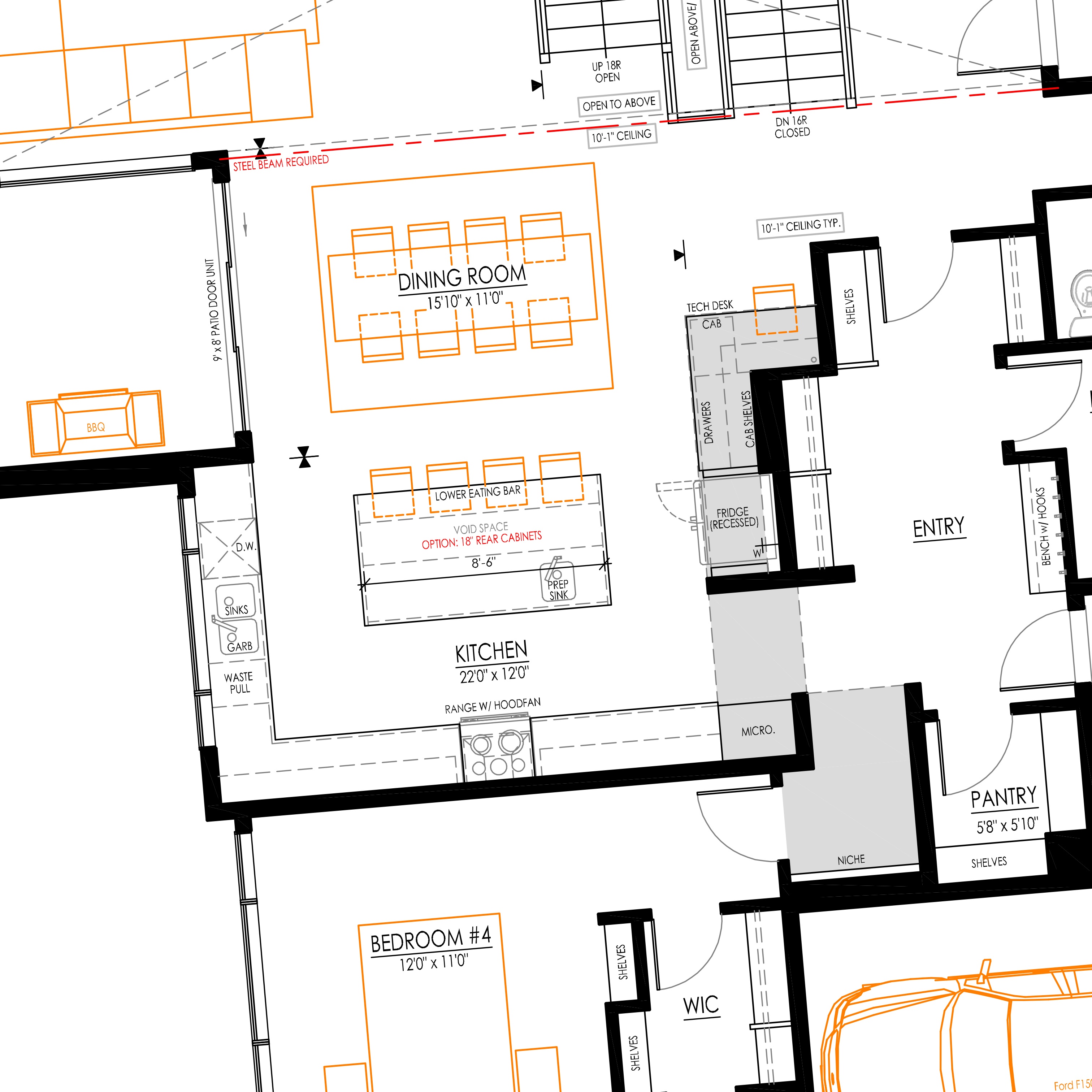 This is what you ultimately purchase from a Design Firm - a set of drawing you take to a General Contractor.
One of the biggest advantages is that you don't need to start building right away, you can shop around for the best General Contractor and make your choice at your leisure.
Finding the General Contractor will be your next task. You'll have to decide between fixed cost or cost plus (read more about that here) and you might have to alter the drawings in order to accommodate the General Contractor. Unfortunately, at this point, there can be a quite a bit of money already spent before getting into the ground.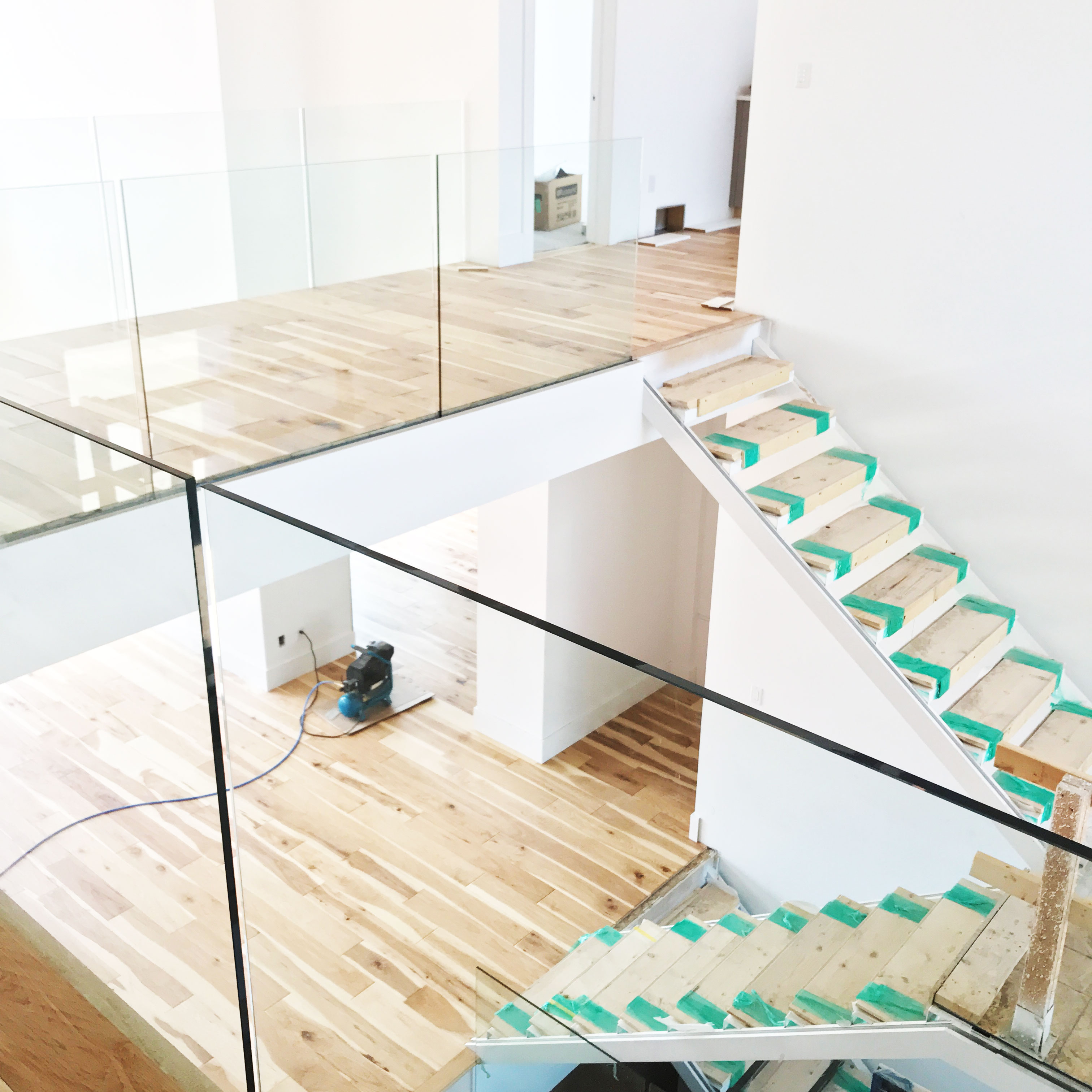 The Designer focuses on the floor plan, not the interior design - this is typically done with your General Contractor.
If you're looking to build an infill home there's more builders than designers and you might notice that's why many of their designs look similar - sometimes they're being designed by the same firm for multiple builders. This isn't necessarily a bad thing, as this allows those who want to start a home building company an easier way to start and manage their upfront costs.
Using a Designer-Builder
Designer builders are a bit more rare in Edmonton, as there's an investment in the infrastructure of the company to get the process and people in place. Most home builders in Edmonton will purchase their master drawings from a Design Firm, and that's not the case with a Designer-Builder.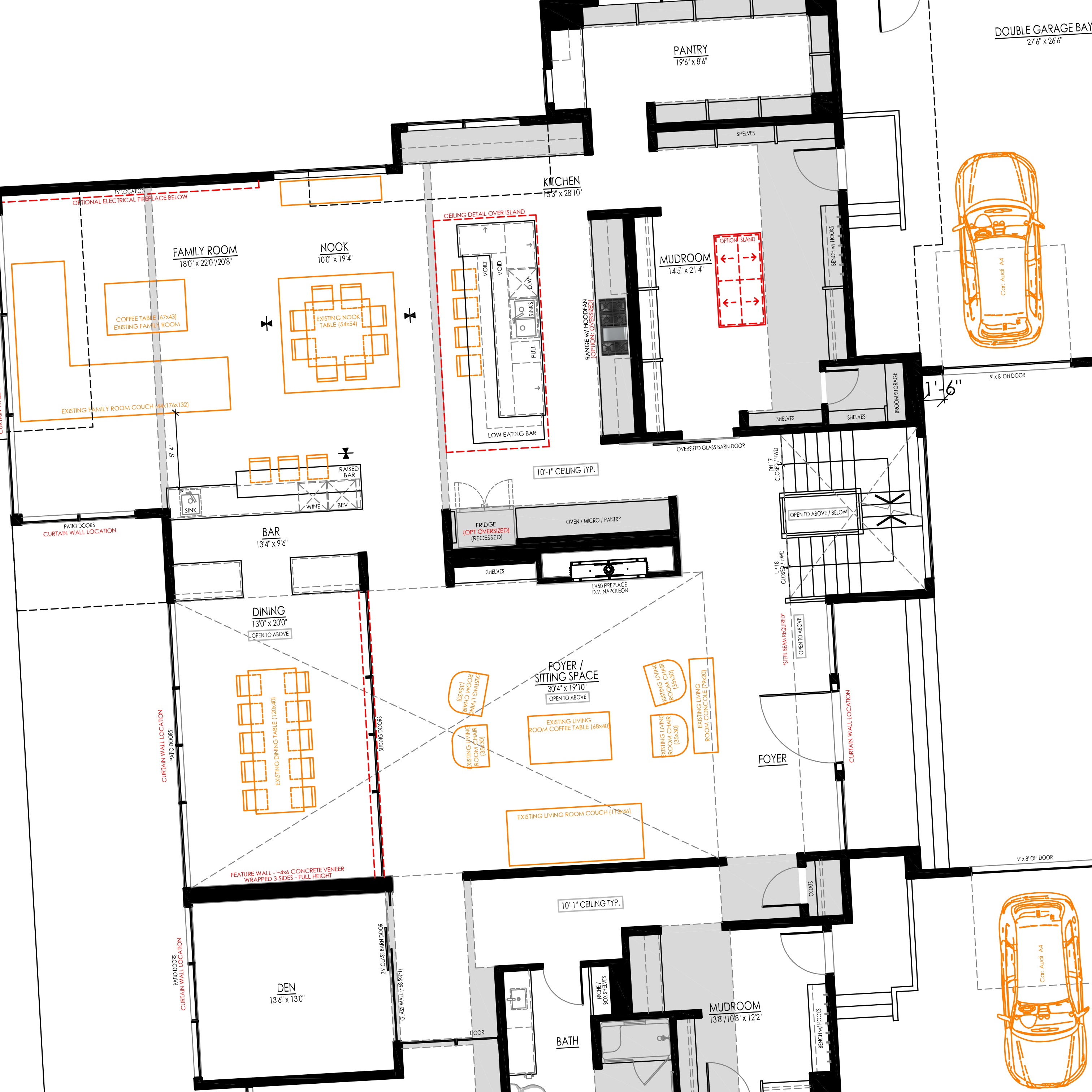 This is a home we're working on that's over 9000 sqft. Having our Design team work closely with our Construction team to understand the details is key to success.
Designer-Builders seem to work a bit better and have a smoother process since the focus during the design stage isn't just design - they're concerned with the overall costs of the home, how to build and how to make sure they understand your vision. The Designer that works for the home builder will also understand the capabilities of the builder, the suppliers and the trades involved. This ultimately means when you're provided a set of drawings the designer-builder can be confident in telling you that from a design, engineering and cost perspective this home can be built.
Designer builders usually have a different setup for blue print fees. Some designer builders will charge a flat rate, others charge by size and some will refund/credit once you decide to build with them. At Kanvi, we don't charge to customize drawings or start fresh making something fully unique.
Since the designers work in the same space as the construction staff, frequent discussion can happen without extra time or cost spent on your behalf. There's a natural flow to discuss each project with the right staff members making sure the vision for your new home is properly understood. This is done so everyone is apprised long before the home starts construction.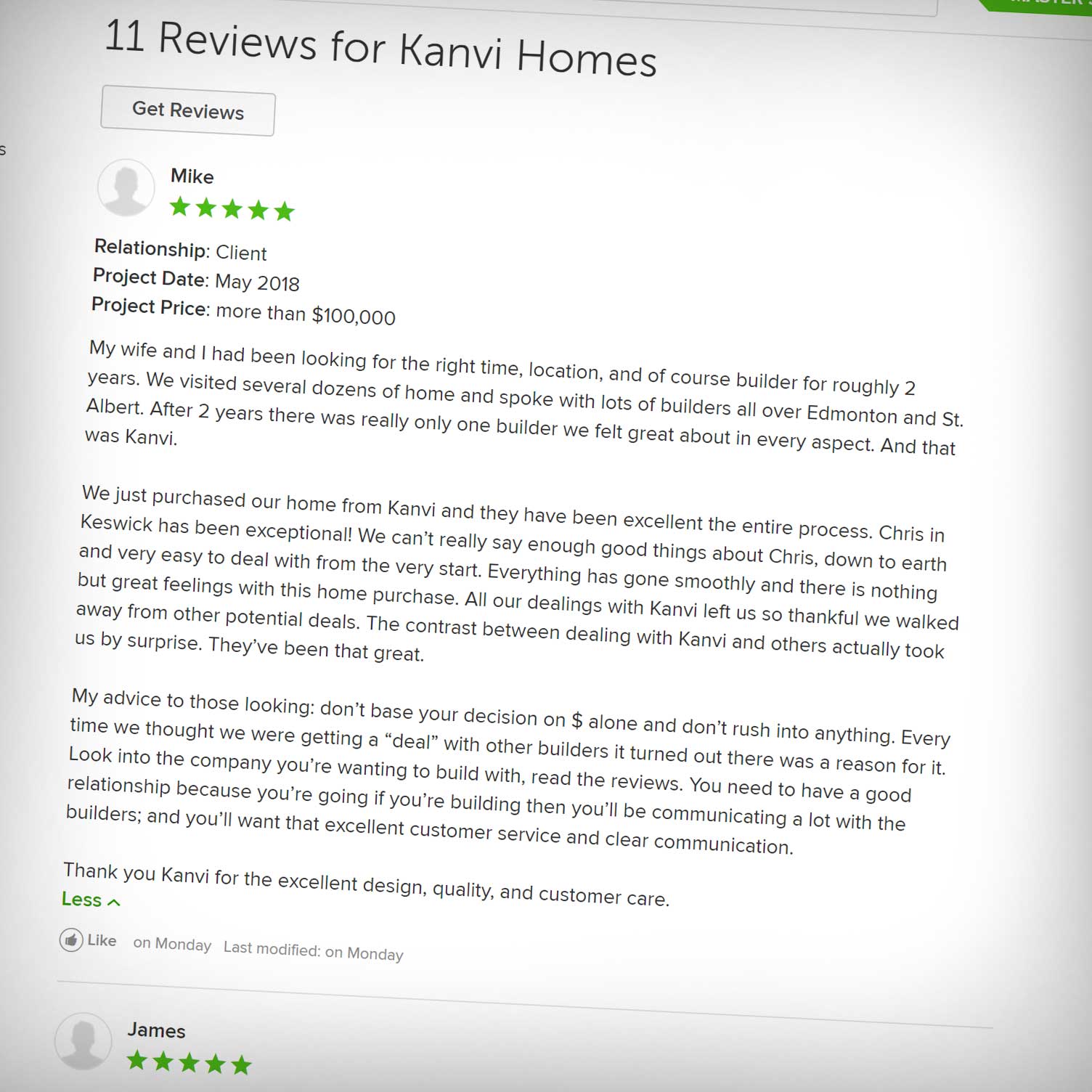 Review are one of the best ways to see how a home builder delivers on promises.
Home builders that operate as Designer-Builders typically won't sell you the drawings, so understanding who the builder is, reading their reviews and understand their Construction Specifications is vital.
If you can't tell at this point, we're a little more favorable to the Designer-builder process as we've found that it's more fitting for designing custom homes that help our clients breath easy with what we find to be a better process. This is specific to us, and our clients and is unique. Each family that needs a home is different and picking the route that fits with them is one of the most important parts of the home building process.
Either route you choose has pro's and con's and you'll need to decide what's best for you and your family. Both routes need some diligence when researching and discussing so that you have a grasp on what's involved and the associated costs. If you'd like to know more, feel free to contact us.