While you're searching for the perfect home on the perfect lot, all of the home builders in Edmonton will start you with a few key documents. You'll get their standard construction specification (find out how to read those here), the community maps and their floor plans. We've found that floor plans can potentially be quite confusing! Think about it, how do you experience your home? It's not from looking straight down from above! Below we've discussed a few key items to remember when you're reviewing the floor plans from any home builders in Edmonton and what to make sure is always included.
A great way to visualize your plans, is to start at the Foyer, and "walk" through the home looking at the details, room by room.

Size of home in Square Feet
One of the questions we're posed most frequently is the square footage of a new home. Kanvi Homes' range from 2200 to over 4000 square feet. With all the floor plans that you've gathered and all the show homes you've walked through, you should really notice how square feet can be used. Below are examples of two main floors of two of our home models; the Mecca and the Aurora. Both offer very similar sizes, but very different experiences while living in the home.
How open a floor plan is designed, will also effect how large a home feels. The open concept main floor of the our Aurora floor plan feels quite a bit larger than our Mecca floor plan, even though they are very similar in sizing. Depending on how you envision your home having a separated Dining Room, or the grand feature staircase in the middle of the home versus having a wide open main floor. The key is to find those sought after features that suit your lifestyle.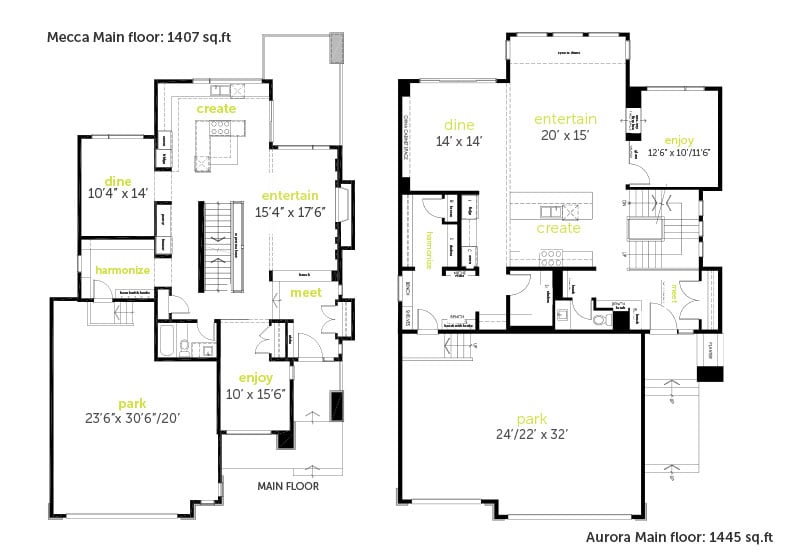 Room sizes
All dimensions are always presented in feet and inches. Even though in Canada we use the metric system, most people understand feet and inches better and the trades that we choose to finish the home typically order materials in Imperial measurements.
Room dimensions are presented in width by the length. For example, a room that has a dimension of 12' x 16' means it's 12 feet wide (from side to side) by 16 feet long (from top to bottom). Rooms aren't always square, so make sure you understand fully how the room feels. A great way to visualize, is to take a space and compare it to your current home. For example, look at the Master Bedroom on the floor plans from the builder – go into your current Master Bedroom with a tape measure, and compare the length and width. From there you should be able to visualize the difference between the two spaces to make you more comfortable with what you will be getting in your new home.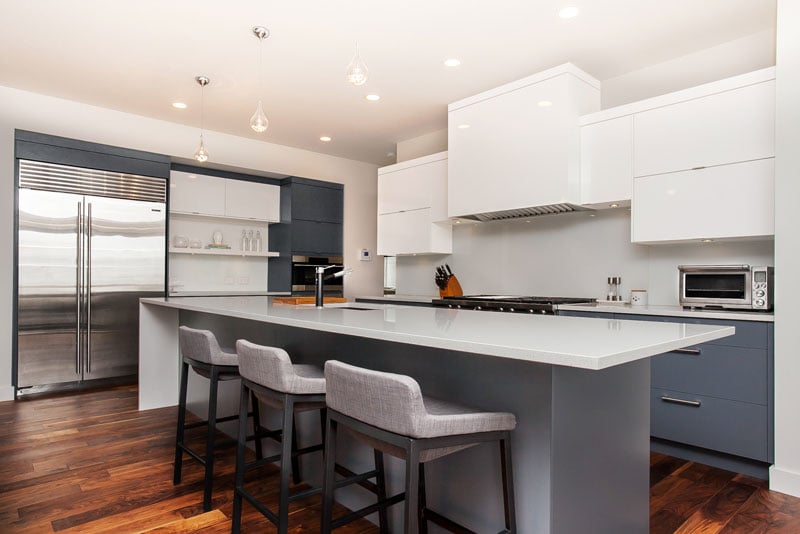 Kitchen and Bathroom Details
Kitchens are without a doubt, the heart of the home. Your floor plans should show locations of the range and/or cook top, oven, fridge and freezers, microwave, sink, and dishwasher. All of these details will be shown and labeled to help visualize your space. Other details can include: upper cabinet locations, flush eating bars and cabinet voids. Taking your time to plan out space is important in your kitchen, as so much valuable time is spent there. Look at the shape and location of your island, and where your storage and pantry will be located. All the while looking at your 'Range Wall', that a lot of people see as a feature focal point of your main floor.
Ensuites are your personal oasis in your home. Some details are just important to review during your planning stages. Items to review in these spaces typically include: vanity location and length (are there one or two sinks). Tub and tub deck, or a freestanding tub – some people look at the tub space as a great opportunity for a feature detail. With the water closet, is it closed off with a door, or open to the rest of the Ensuite? What is included with the shower? Is it an acrylic drop-in, base with tiled walls, or fully tiled shower with a bench, shampoo niche, and curb. Are there more than one shower head? What about added rain head, or a steam shower addition? These items typically have visual differences on drawings and should be noted.
Feature Details
Feature niches, shelving, or detailing are a great way to showcase those special items that take you back to a favorite memory or display a piece of art that sets the tone for the space.Locations and sizes aren't typically included, but should be easy to notice on the floor plans, as there is usually a void (white) space on the wall and it is typically noted. These details can be finalized later during the process, but know what we have included some features into the plan.

Ceiling heights
Ceiling heights make an immense difference to how a space can feel. The taller the ceilings, the more airy a space feels (while keeping proportionate to the width of the room). Ceiling heights on the main and upper floor typically range from 8 feet to over 13 feet depending on the home's design. Our show home in Jagare Ridge features a bonus room with a 13' tall ceiling!
There are other ceiling features that could be shown on your plans. Typically, they are indicated by a dashed line, so it would be good to discuss what that means with your home builder in Edmonton. Options could include: Raised ceiling height (stepped up), tray ceiling, or vaulted ceiling, open to below areas, or bulkheads. The best way to visually see these options, is to ask for photos of a finished home. Bulkheads can be used aesthetically (for example, over your kitchen cabinets), or they could be required to house items like structural items (i.e. beams), mechanical items (i.e. Hhod fan venting), or other aspects.
Ceiling heights can also change the energy demands of your home. The more height in a room, the larger volume of air controlled by the HVAC (Heating, Ventilation and Air Condition) is required. Make sure you see the ceiling heights noted on the floor plans that you review.
Was this article helpful?