When people think about building their dream home, their faces literally glow, their eyes light up, and their smiles are infectious – the excitement and anticipation of limitless possibility is palpable, it's one the reasons we're in the home building business. But despite knowing that the end goal is going to be a home designed and built perfectly for your family, the road to your new home can be incredibly stressful. Building a new home is a long, complex process. Between choosing communities and lots, floorplans and fixtures, colour palettes and window treatments, you're making thousands of decisions throughout the process – which means it's easy to forget what you've chosen and why.
The details alone can be unbelievably overwhelming and unwittingly cause a lot of anxiety. Between not really knowing how your choices will impact your family in practice, consulting and considering each option carefully together (sometimes with conflicting opinions between family members), and the pressure to get it just right, building a new home can be incredibly daunting. It's an exercise in patience, perseverance, and persistence. Because we're expert home builders and we've worked with countless families to design and build their dream homes, we work hard to make the process as stress-free as possible and we're here to guide you through it.
How do we do limit stress in the home-building experience?
Well, we start by guiding you throughout the entire process. We outline every step for you from the word go, what will happen and when, what decisions you'll have to make and when, and who you'll consult and work with and when. You are not building your house in a vacuum, you are not alone. Our approach is collaborative: we are your partners, your guides, your advisors and we keep you informed every step of the way, with each new milestone, with every decision. Our process ensures that you get the answers you when you need them right from the source.
How do we keep you in the loop?
We want to build trust, we want to help you, and we want to keep your stress as low as possible, so keeping you apprised throughout the process is essential to our success. We employ our own design team in-house instead of using subcontractors, which gives you full-time, around the clock access, to our interior, kitchen, and senior designers who ensure that the designs we provide are consistently high-quality and tailored to each client.

Our Online Portal allows you to see a calendar, daily logs and even photos!
Our online-portal manages your project documents, tracks your home's progress, and provides you with updates and photos throughout the build cycle, so you can look in on the project 24/7 at your leisure.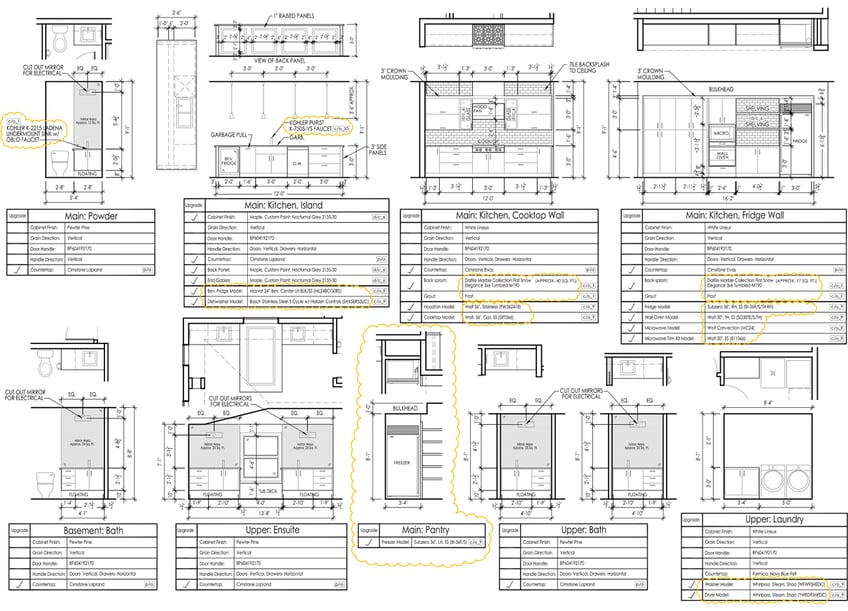 The devil is the details, and we ensure everything is well thoughout before going into the construction stage.
Our most effective way of easing your mind is by giving you a 30-40 page, comprehensive plan that outlines and details every single decision you've made for your new home. The industry standard is a 10-12 page document, so our plans go above and beyond the norm, which is no easy task. And we don't just hand over the drawings and expect you to sort them out, we walk you through every page, reviewing and revising as we go over the document. We believe an informed client is a happy client, so we make sure that you understand every detail, that you're confident in your decisions, and that, wherever possible, we offer valuable advice, feedback, and options to better suit your goals and your budget.
Seeing your vision and building your dream is what we do and we partner with you to do it. Contact us today to start the conversation about your dream home.
Was this article helpful?