The Purchase agreement is just that, an agreement between you and Kanvi that talks about everything that we're doing for you, and what in turn we need from you.
This is usually the first of many steps towards getting your dream home and is one of the many documents you'll review during the process. Don't worry, after this, most of the documents are pretty straight forward and easy to understand, the purchase agreement is the most detailed to make sure we're all on the same page with expectations of each other.
Three Pager Purchase Agreement
The first part of the agreement is our three pager purchase agreement. This details many details about what should happen if there's defaults, liens and other items.
These are really important to review, however they can get very technical really quickly. As a standard part of our process, we send the purchase agreement to you a few days in advance of signing, that way you've got lots of time to review it and ask us questions.
In this part of the document is detailed with regards to the possession date, the deposit schedule, financing type and more.
We've noticed that this document can seem a bit overwhelming for our clients. We know there will be lots of questions, all of which we have answers to. The goal of this document is to protect both parties should something happen and have agreed upon process and contingencies for building you new home.
Schedule B
The Schedule B lists in written form all the components of your new home with the applicable price or allowance. Here, you'll see details of how big the home is, what the architectural style is planned to be, lot requirements and any custom details.
It's not uncommon for our clients to have Schedule B's that are several pages long, full of detail. We do this to make sure we're all on the same page with what changes we're making, what's expected and the applicable costs. We include a high level of detail so-as we can make sure we understand exactly what you want.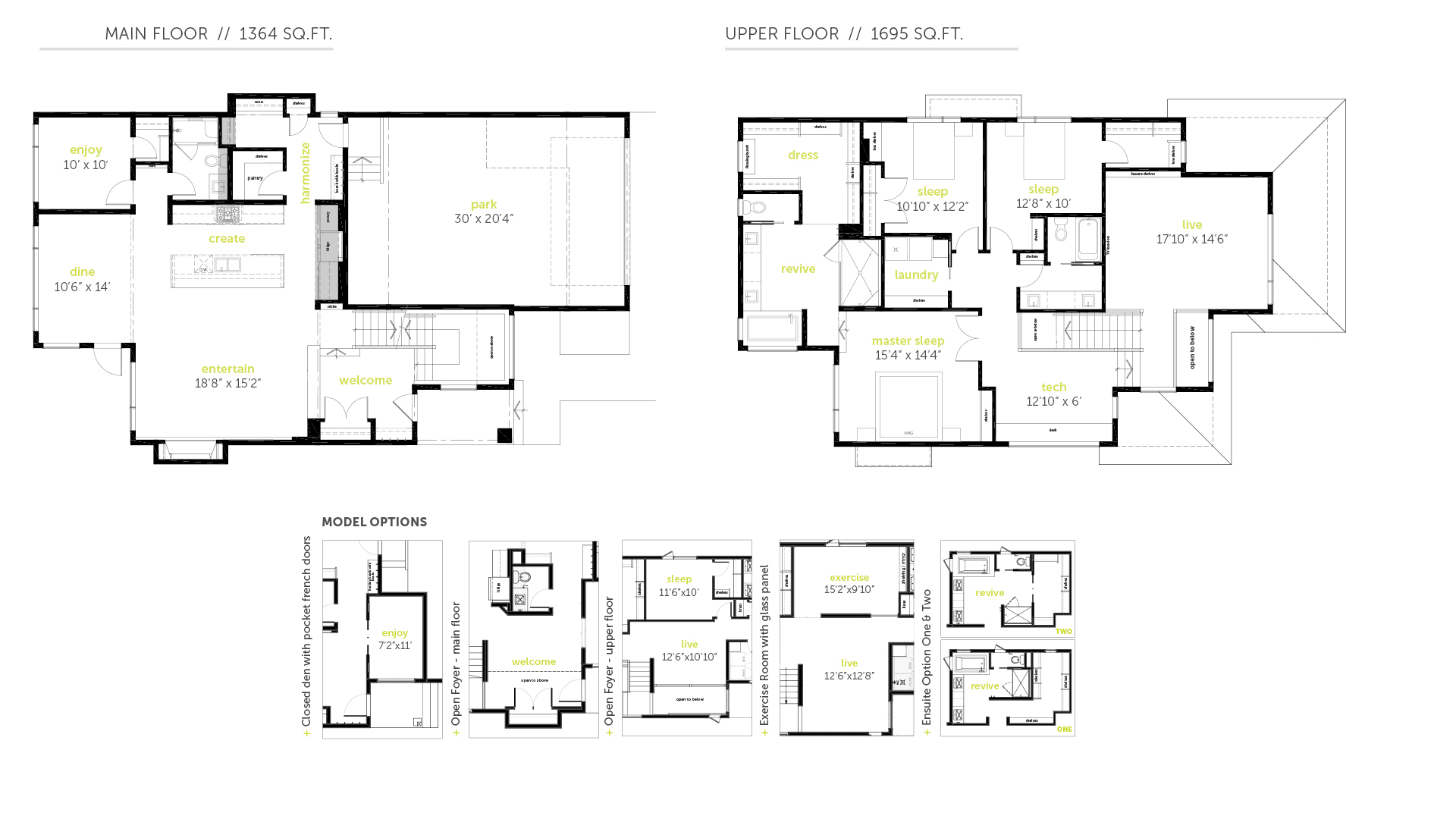 Floor plans
You'll see the latest version of the floor plans we've design for just you. You'll only see three levels - including the basement - that require your signature. These are the preliminary floor plans that will get fully fleshed out to become a full set of construction drawings.
Included with the floor plans are a plotting. This shows the details of your lot, how the home fits and which orientation the garage is. If it's an infill, this will also show where a detached rear garage could be, where power is and the sidewalk.
Right after conditions have been removed, we'll review the structural items and here you'll have an opportunity to make any final changes to the plan.
Full Specifications
You'll be reviewing our full specifications document for the standard inclusions you've chosen. This will show, in detail, the exact materials, material amounts and processes that we'll use to build your home.
For us, this is typically a nine page document, full of detail. Many of our clients prefer to review this with some advance, and we're happy to allow that. As with the three pager agreement, our clients have lots of questions that we are ready to answer.
A tip here, is to google any material or brand name questions that you have. There's many brand we use (like DeltaMS Foundation wrap) that has massive benefits with lots of answers and opinions available.
Lot Map
If you're purchasing a home in a new area, or we're acting on your behalf to purchase the land, we'll have you sign the lot map with your future home site circled. Just like the rest of the documents, making sure it's clean and clearly communicated what we're doing is key.
There's a lot of marks and numbers on a lot map, and making sure you've seen all the details of where your home could be will spare you being beside a hydrant or having a power pedestal in your yard. Read here how to know what you're seeing on a lot map.
Schedules/Addendums
We've got several schedules and notices to review. The goal here is to make sure we've all got an understanding of our expectations.
Along with the other documents that make up the purchase agreement these can become a bit technical that will force questions. We're here to answer and discuss why which schedules are in place.
FINTRAC
As mandated by legislation, we are required to fill out FINTRAC documentation as part of the agreement.
At a high level, that's all the items that are included with any Kanvi purchase agreement. Within these, there can be some variability, like adding addendums, different financing structures and more.
Since this is how we formally begin building your home and the start of your relationship with Kanvi ask as many questions as you need to feel comfortable with the decision. We're here for you, now and every step of the way.