Building a home is a guided process that has lots of pieces that come together at various stages over about a year of construction. There's a lot that goes into the planning, execution and making sure everything is done right.
Building a home is like making a cake, you typically only see the end result. But, if you look in the kitchen it could be a bit of a mess that needs to be cleaned. Construction can be thought of this way, it can be messy, but it's part of the process.
Kanvi Walkthroughs and site access
We try to be open and transparent with what's happening, after all it's your home! We have tools already in place that are here to provide peace of mind and we're happy to take you through your home safety and schedule permitting.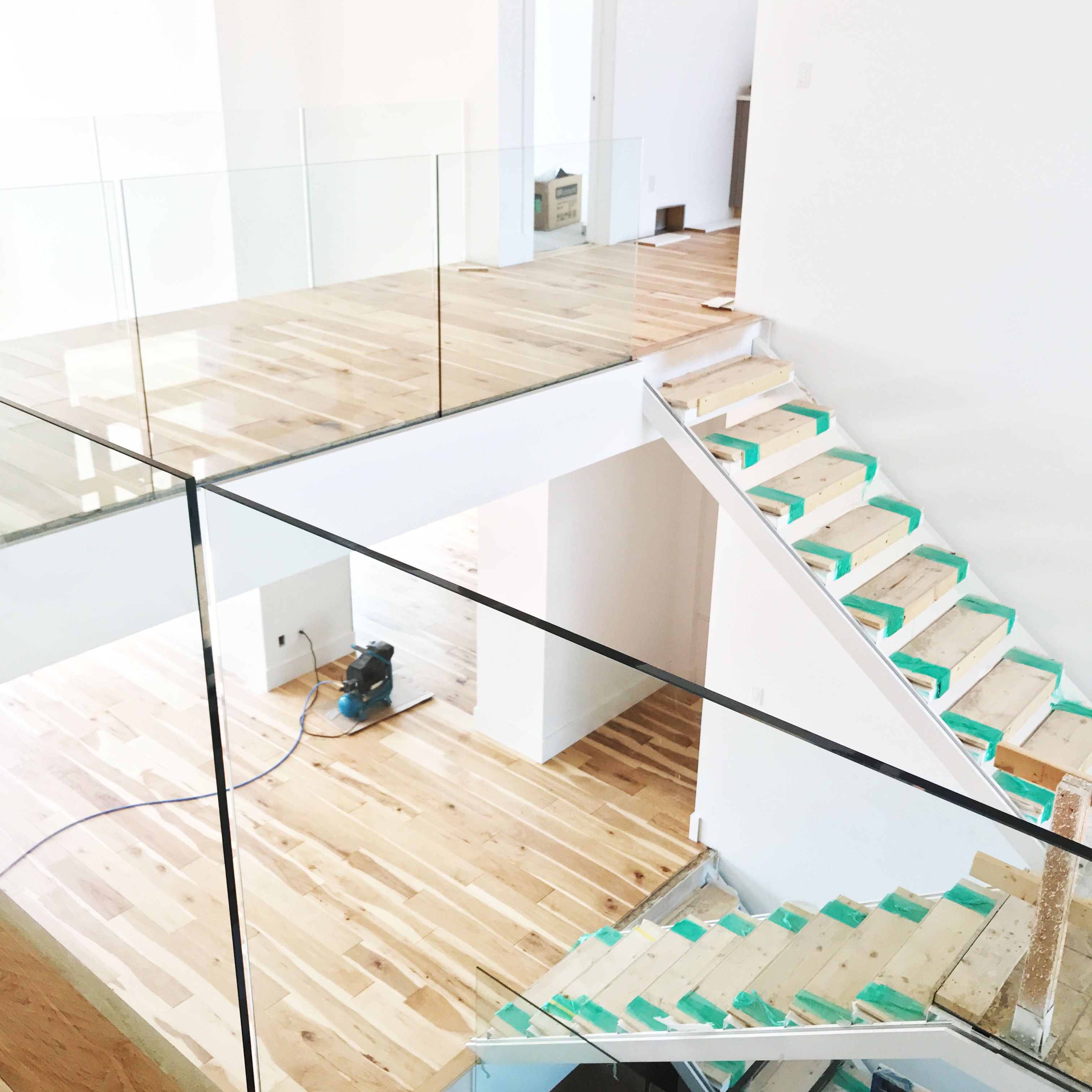 When we do a hardwood riser staircase, we make sure to wrap the treads during construction so they stay as clean as possible.
Our standard walkthoughs to see your home are:
Post lockup - Framing completed, doors and windows installed.
Pre-Insulation - This is where you can see the electrical, plumbing and other items that will be behind the walls.
Post Drywall - Once drywall is completed, you'll walkthrough and see the home before mudding, taping and painting begins.
Post Cabinets - After all the cabinets in the kitchen, washrooms and any other custom areas are completed.
Pre-Possession - This is usually done one week before you move in where we're completing the final touches.
We also have one more at possession to show you all the mechanical systems of your home and note any fixes or deficiencies we'll have fixed as quick as possible.
Outside going up pretty fast towards lockup
You'll find that your home's framing, roof, windows and doors can go up quite fast. This is an intentional part of our process. We do this so that we can close the home from the elements and start to store and bring materials inside. Plumbing and electrical can start as soon as there's a basic barrier and the sooner we can do that the faster you can have your new home.
Ugly duckling stages
There are stages of construction that are quite messy. Just like making a cake, there's lots of raw materials that need to be put together just right. In Alberta, we're exposed to some pretty extreme weather swings that can add mud, snow and lots of water that has to be dealt with and planned accordingly.
This can lead to having moisture and mud in your home before flooring or drywall goes up. We clean, sweep and vacuum homes during these stages to keep the dust down before sealing walls or adding flooring.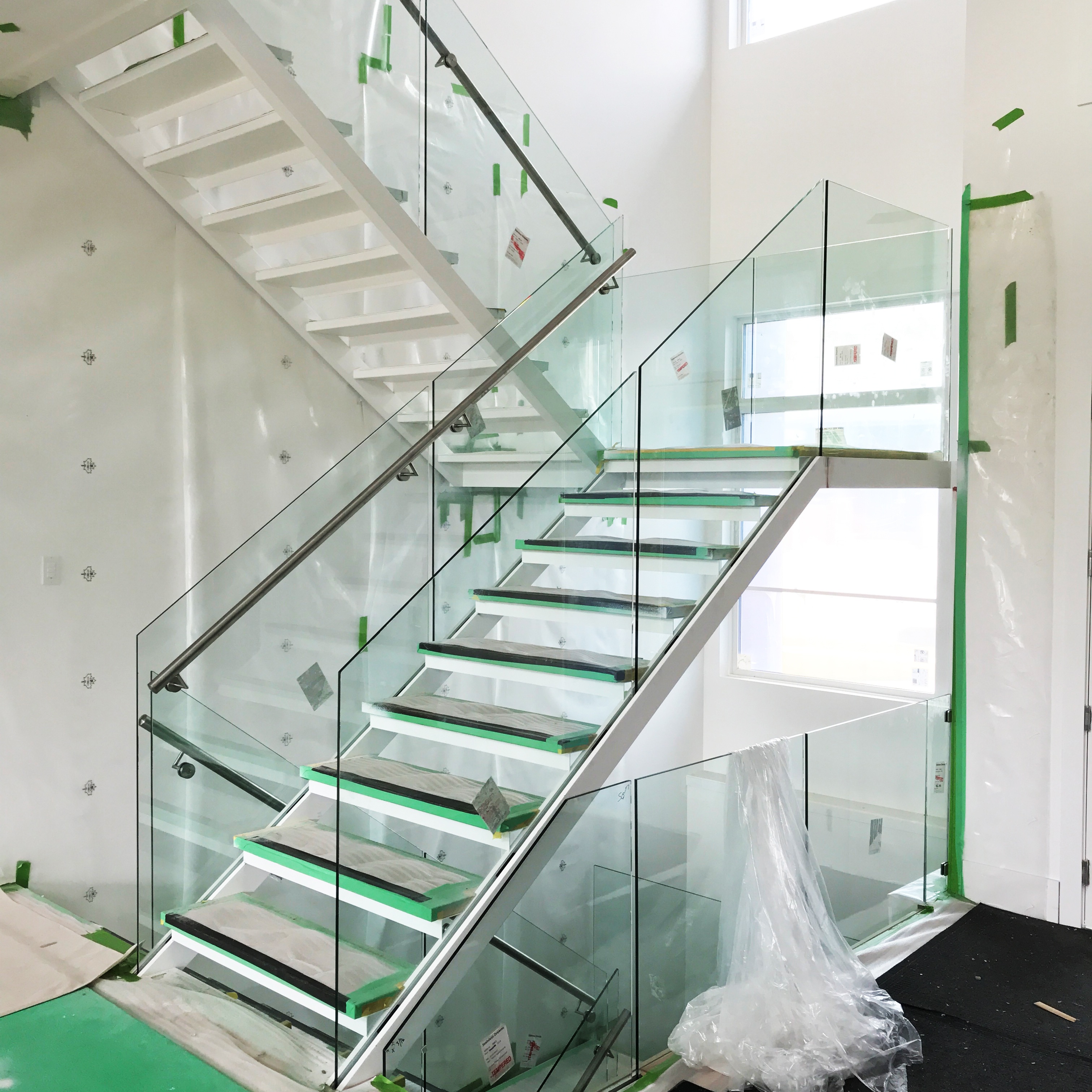 A big part of the construction process is prepping the areas we're working in to minimise the amount of work we need to come and correct.
Do we need to worry about weather?
Typically no, but there's certain internal guidelines we've set to build a long lasting home for you. When the ground gets frozen, you technically can put in a foundation with some additives to the concrete, and you can heat plus hoard to get it to dry. We don't think this is the best route to go, and we've decided that we'll wait or start a bit before the ground freezes.
Rain is something we can't avoid
If your home is at a point where the roof isn't on or the exterior isn't completed yet, there is a chance of rain getting in. At that point, no electrical is active or installed so the most that needs to be considered is giving enough time for for your home to dry out. If we need to, we can bring in dryers to add to it.
Once the exterior of the home is completed, rain water doesn't become an issue as the home is well on it's way to being sealed.
Debris on site
Like we mentioned above, making a home is like baking - the end result looks stunning but the kitchen can be a bit of a mess. The same can be with any debris on site, we keep construction bins on site with all our homes, but sometimes there can be a bit of debris. We always clean up as much as we can while we're building, and before you move in we'll get as much as possible.
With all our homes that you've seen, there's some stages where the homes might be less than desirable looking, but that's all part of the process. We've got the expertise and know how to make sure we're monitoring and cleaning as much as possible.
Before any client moves into a new home, it's cleaned to a 'show home finish' all areas are vacuumed, cleaned and checked to make sure the home is the cleanest it's ever been for you and your family to call their own.